New World Basenjis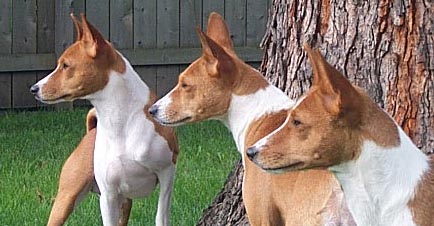 Ninja, Mirrie and Dulcie - Summer 2000.

Thank you for visiting the Cyber-Home of New World Basenjis! We're glad you could stop by!
If you've visited us before, you'll notice some differences... We've redesigned our site, added lots of new photos, and plan to update the site on a more regular basis with interesting links, features, and of course, pictures of the New World Kidz.
Feel free to browse and enjoy! You can contact us with questions and comments at
newworldbasenjis@sbcglobal.net


See Our Exciting Fall 2008 Breeding Plans !

A Special Tribute to Max, Our First Basenji

Saying Goodbye to Callie, Our Second Basenji

For Those Who Doubt... - If you are considering a Basenji
for your household, or even if you already own one,
Please take a look!
Favorite Snaps! -- Check out our favorite
current photos... We hope to update them bi-monthly!