National Specialty 2004
Candid Photos !

Not "just" photos - but a MOVIE !
Follow the link below to view a short movie
of the New World Kidz in action at
the Specialty:
http://www.newworldbasenjis.net/barooing2.mov
There's some text, then a "gap" and THEN an
honest to goodness YODEL-FEST !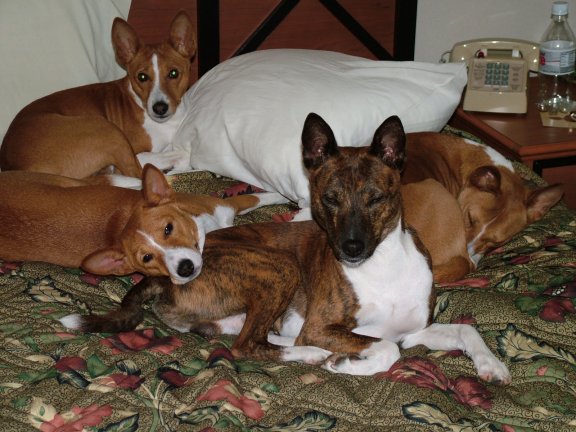 [photo by Troy Shadbolt]
In early September, 2004, Dulcie (upper left),
Willow (lower left), Kevlar (center) and Mirrie
(right) spent a fun-filled week at the Basenji Club
of America National Specialty in Manitowoc, WI.
In this photo, the sleepy New World crew settles in
for an afternoon nap (Kevlar is obviously enjoying his
status as "harem master" for the week, as well!)...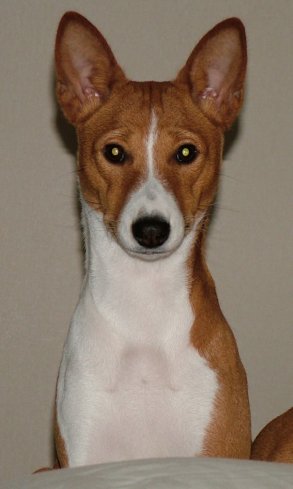 [Photo by Troy Shadbolt]
Of course, you can't expect a 7 month old
PUPPY to sleep for very long! Behold one
very wide-awake Willow - ready to play !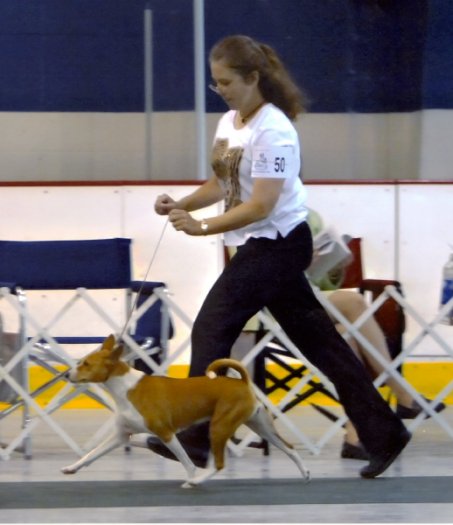 Old Grandma Mirrie sure enjoyed struttin' her stuff
in the 9-11 yr. Veteran Bitch Sweepstakes class ! Thanks to Aaron
Thomson, Premier Basenjis, for the great movement photo of
Mirrie (who is shown just two months shy of her 10th birthday)...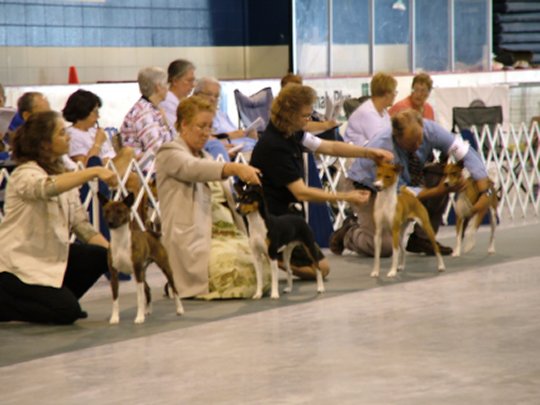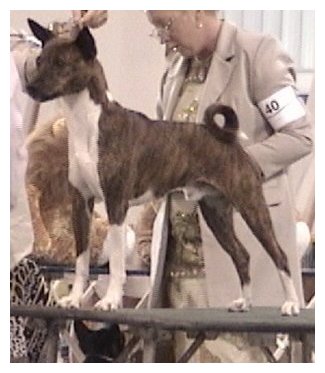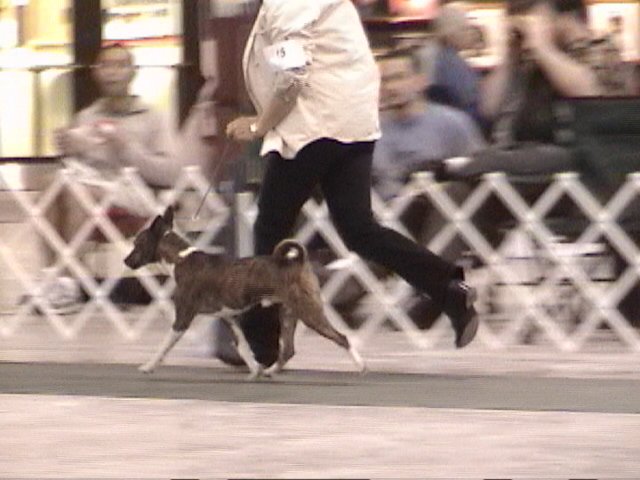 Thanks to Troy, James Johannes and Robert Dean for
these great shots of Kevlar participating in the African Exhibition !
I'm very proud of my special brindle boy... I've never
gone to Nationals with a Basenji who was instantly recognized
(and fawned over!) by so many friends and acquaintances
(and some strangers, too).... Of course, all that lovin'
is right up Kevlar's alley !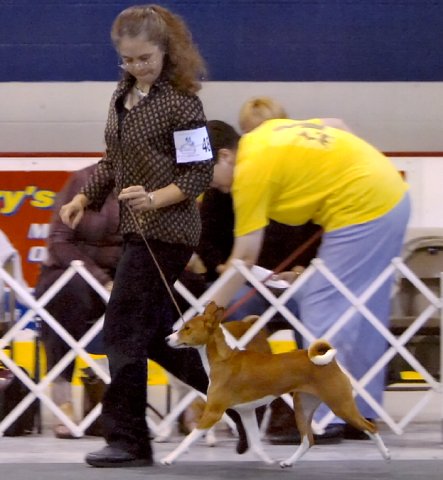 (photo by Aaron Thomson, Premier Basenjis)
And last but not least, baby Willow showing
off in Puppy Sweepstakes, with Mom "at the wheel!"

See You All Next Year In St. Louis !


Click Your Browser's Back Button to Return to the Prior Page ...