New World Basenjis
Our 2003/04 Litter Has Arrived!
Dulcie's pups sired by Maverick (see below) began arriving on January 23, 2004, and completed their arrival in the early hours of January 24... We are proud to present this handsome litter of five healthy, active 1/8th African pups!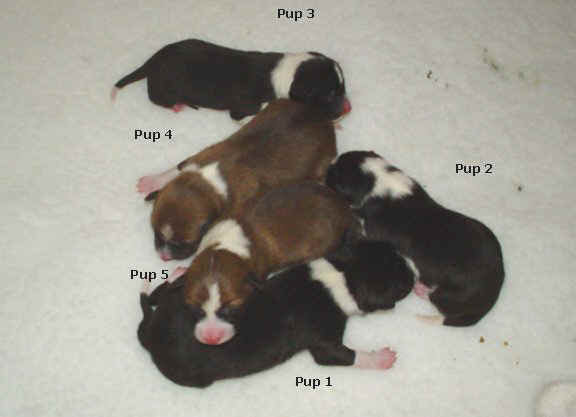 Pup #1 is a black/white male - second to arrive, and weighing in at a whopping 9+ ounces! His name is Raglan.
Pup #2 is a black/white female, third to arrive, weighing in at 7 ounces. Her name is Suzi Lightening.
Pup #3 is the first-born - a petite black/white female weighing in at just under 7 ounces. Her name is Merrick.
Pup #4 is fourth in line - a red/white girl, weighing in at 7 ounces. Her name is Evra.
Pup #5, last but not least, is also a red/white girl, weighing in at just over 7 ounces. Her name is Willow.
We are grateful for Dulcie's easy delivery, the good health of the pups, and are anxious to watch these babies grow! Dulcie comes from a long line of dedicated, hard working "single moms" (grin!) and watching her instincts immediately kick into overdrive was, as always, an amazing and rewarding experience....
SPECIAL THANKS to my son, Aaron. This was his first opportunity, at age 11.8 years, to assist with a whelping. I'm spoiled now! What a fantastic "whelper helper" he is - calm, accurate, patient -- and not prone to fatigue! Thank you, Aaron, for all of your help, for knowing the difference between a hemostat and a scissors (grin!), for NOT being in the least bit squeamish, and for being so respectful of the entire process. I am proud of Dulcie - and I'm every bit as proud of you!

Here are some photos from just before the arrival of the pups, during, and immediately after the whelping on Jan. 23-24. All of the photos are by Aaron, except for the final one of Dulcie resting with her brood....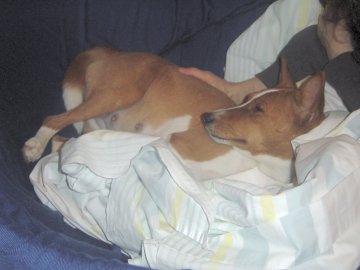 Probably no female likes to be photographed in labor (!) but
here's a shot of Dulcie just about 3 hours before her
pups started arriving. She'd eschewed the whelping box
for the Papasan chair in the whelping room - and seemed to want
to keep her rear end higher than her front end! That's
me, giving her the back massage.... Her face really
says it all. I felt just like that when I was in labor!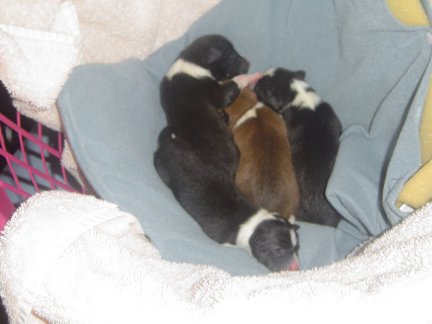 Aaron snapped this photo of Merrick, Raglan, Suzi
and Evra in their "warming box" (complete with
heating pad)... They may not LOOK it, but they're
anxiously awaiting the arrival of their sibling, Willow !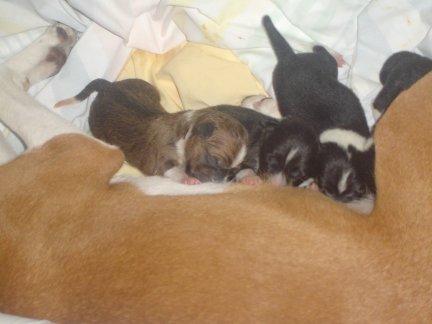 This is one of the kidz' first trips to the Milk Bar...
Note that Miss Willow is still very, very WET !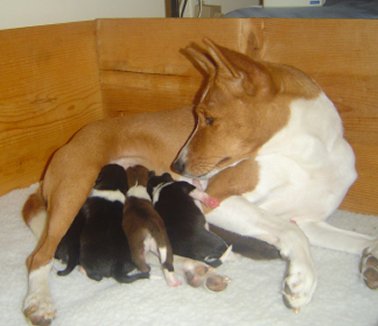 A proud Mama Dulcie with her first litter ...
Thank you, Dulcie, for being such a wonderful,
attentive dam !


Click here to visit the puppies' Photo Gallery - updated often !

Info For Dulcie's Litter ....
(Please note, this litter is entirely placed. However, please feel free to contact us if you are looking for referrals in the Midwest or throughout the U.S.) ...

The mama is our lovely, big-moving
1/4 African girl, "Dulcie"
(New World Heart Like a Wheel)
whelped 11-14-97

And the Sire is....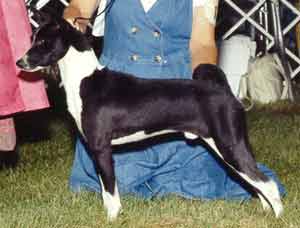 Ch. AB Maverick of Keltwyn, JC, F.Ch, GRC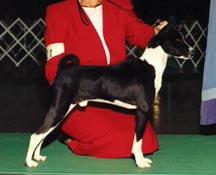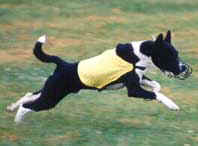 Maverick is a six year old son of Ch. AB Lazer The Mischief Maker (passed away at age 12+ from complications of surgery to repair a spinal cord injury) and Ch. Jaiye's Princess Ebony Kasai, JC, F.Ch. (alive and well at age 11). He is owned by Beth Straub, Keltwyn Basenjis, and was bred by Wanda Pooley (Adventureland Basenjis) and Trunita Miller (Sugrshaq Basenjis).
Maverick is OFA "excellent," and CERF'd at his most recent
eye exam (Fall, 2003). His thyroid
panel (per MSU) was normal as of June, 2003.
Maverick also test stripes clear for urine glucose.

We're VERY excited about the prospect of
red, black and/or tri 1/8th African pups from this breeding,
and about building on the solid foundations
of health, temperament, longevity and conformation
behind both Dulcie & Maverick !
NOTE: The 10 generation inbreeding coefficient for this
litter is 6.53589 percent. I believe that maintaining
inbreeding coefficients of 10% or less helps
to ensure the ongoing vigor and good health
of every New World Puppy, and of the breed as a whole.

CLICK HERE to see a pedigree for this litter !
CLICK HERE to see health record information for Dulcie !

Please contact us a newworld@iwc.net for additional information about our upcoming breeding plans and/or to be placed on our waiting list!

| | |
| --- | --- |
| | Click on your browser's "BACK" button to return to our Index Page. |