FALL BREEDING PLANS
2008 !
At last, it is Miss Willow's "turn at bat!"
Our beautiful 1/8th African girl (who finished her AKC
Championship on May 24, 2008 with a 5 point major
at the Cincinnati Specialty under Judge Carol Spritzer! )
will be bred to (drum roll please....).....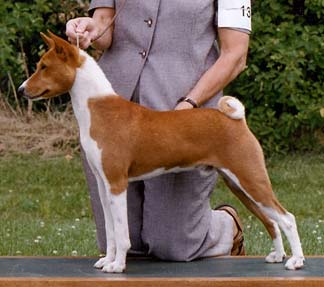 AKC Ch. AB Rafiki Cool Under Fire
(aka "Jesse")
Jesse is the handsome, Fanconi "probable clear"
full litter brother of the big-winning tri special
AKC Ch. AB Rafiki The Icon of Cool - but
Jesse is a very special fellow in his own right. He
has an outstanding "wiggle your butt!" disposition,
correct size, moderate angles, a short dark coat - just
the type of fellow we've been hoping for as a
sire for Willow's first litter (and our first litter
since 2004!)....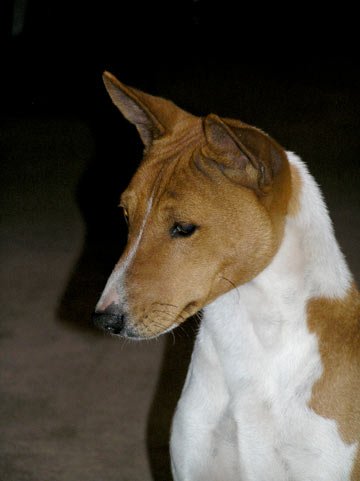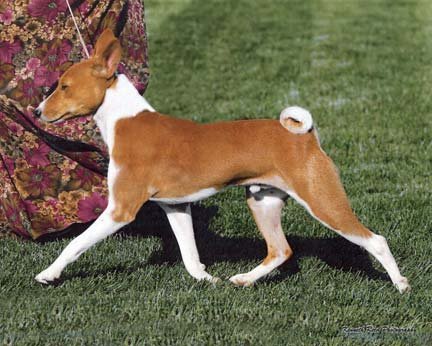 Here are a head shot
and movement shot
of the proud Papa-to-Be ...

Health testing information for Jesse
may be viewed on the OFA website:
http://www.offa.org/display.html?appnum=1320944#animal
Willow passed her CERF exam (eyes)
at the BCOA National Specialty
(no abnormalities other than minor
epithelial corneal dystrophy - lipid deposits on
lens surface).
Jesse, as mentioned, has tested
Fanconi "probable clear" via the DNA
Fanconi linkage test. Willow has tested "probable
carrier." To read more about breeding Fanconi
probable clears and carriers, click here:
http://www.basenjihealth.org/linkage-faq.html
Willow's health test results to date
can be viewed here:
http://www.offa.org/display.html?appnum=1206975#animal

**This breeding has a ten generation inbreeding coefficient
(calculated using CompuPed) of 8%.
One of my goals in breeding is to work with coefficients
of 10% or less.**
Red & White, and possibly tri-color
babies are expected ... Reservations
are being taken now. We don't breed
often, and already have three reservations
for pups from this litter (thanks to those
wonderful folks for your patience - we hope
to reward you with 15+ years of love and
companionship!)... Please direct
inquiries to newworldbasenjis@sbcglobal.net
(please note that we only place pups in the Midwest - we happily give
BCOA-member breeder referrals to would-be owners who live elsewhere).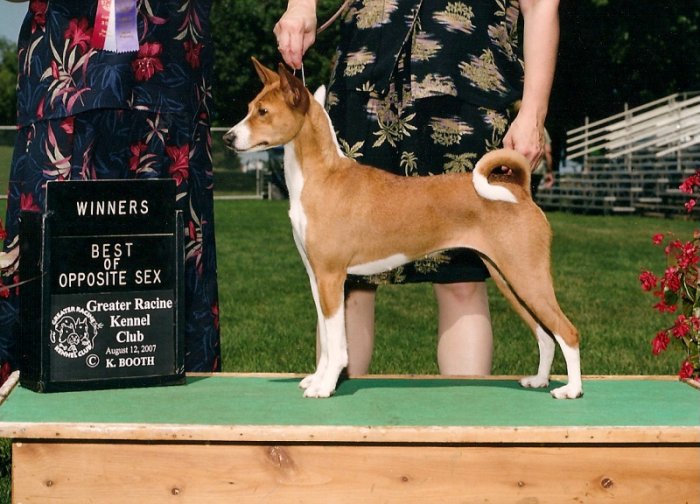 The mama-to-be - Miss Willow !

Here is the pedigree for our
Jesse x Willow litter ...
Pedigree of:

Jesse x Willow

Puppies

Fall 2008

Am Ch
AB-Rafiki Cool Under Fire
HP192034/04 USA
B: 20 Nov 2005

"Jesse"

Am Ch
Rafiki-Hackers Red White & Blue
HP042763/01 USA
B: 4 Dec 2002

Am Ch
Hacker-Rwanda's Night Light
HM872022/01 USA

Am Ch
Hacker's Bud Light

Am Ch
Hacker's Highlife of Rwanda

Am Ch
Rafiki's If Tomorrow Comes
HM806691/01 USA

Am Ch
Rafikis Three Ring Circus
(CR)

Am Ch
Rafikis Sense And Sensibility
(CL)

Am Ch
AB-SS Follow the Money
(CL)
Black Tan & White
HP030683/02 USA
B: 26 Dec 2002

Am Ch
Escapade's High Five
HM333577/01 USA

Am Ch
Bojak Abbai Kifungua Mimba
CD

Windrush Nyoya of Bojak

Am Ch
AB Princess Chinyamarindi
JC FCh
HM683589/02 USA

Am Ch
AB Lazer The Mischief Maker

Am Ch
Jaiye's Princess Ebony Kasai
JC FCh

New World Wild Age
(CR)
HP083093/01 USA
B: 23 Jan 2004

"Willow"

Am Ch
AB Maverick of Keltwyn
JC GRC FCh
Black & White
HM683589/03 USA
B: 19 Jan 1997

Am Ch
AB Lazer The Mischief Maker
HM327989/03 USA

Am Ch
Serengeti Cool Jazz of Woz

Neferu of Crosswind Rose

Am Ch
Jaiye's Princess Ebony Kasai
JC FCh
HM391430/01 USA

Am Ch
Idlewild Sudi Of Jerlin

Jaiye's Free Bird of Carmel

New World Heart Like A Wheel
HM736169/04 USA
B: 13 Nov 1997

Am Ch
Kibushi Anything Goes
TT FCh CGC
HD681162 USA

Am Ch
Falisha's Night Odysey

Am Ch
Kibushi Quinella Of Bravos

Am Ch
Kibushi Neverminds New World
JC (CR)
HM546564/04 USA

Avongara Diagba

Am Ch
Kibushi All or Nothing
T
T
As of January 2, 2009, New World
Basenjis is "Where The Boys Are!"
FIVE (!) red and white boys arrived safe and
sound on 01/02/2009 between
3:00 a.m. and 6:00 a.m. !

Unfortunately, our attempt at six week
stacked photos suffered from camera focus
problems - but scroll down below the
5 week stacked shots to see some fun
"close-ups" plus some shots of
the boyz playing with their favorite
"Uncle" - Kita !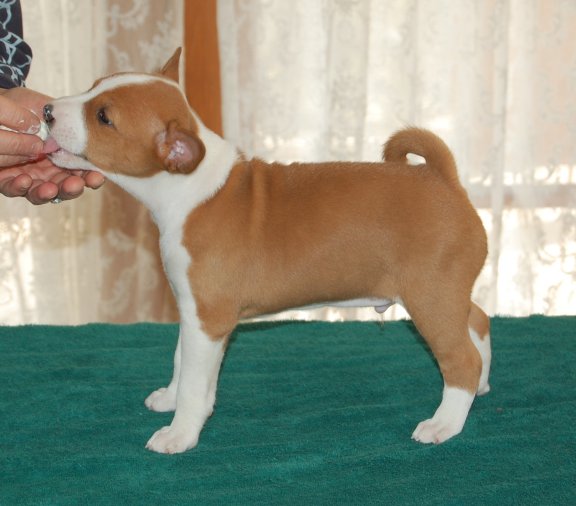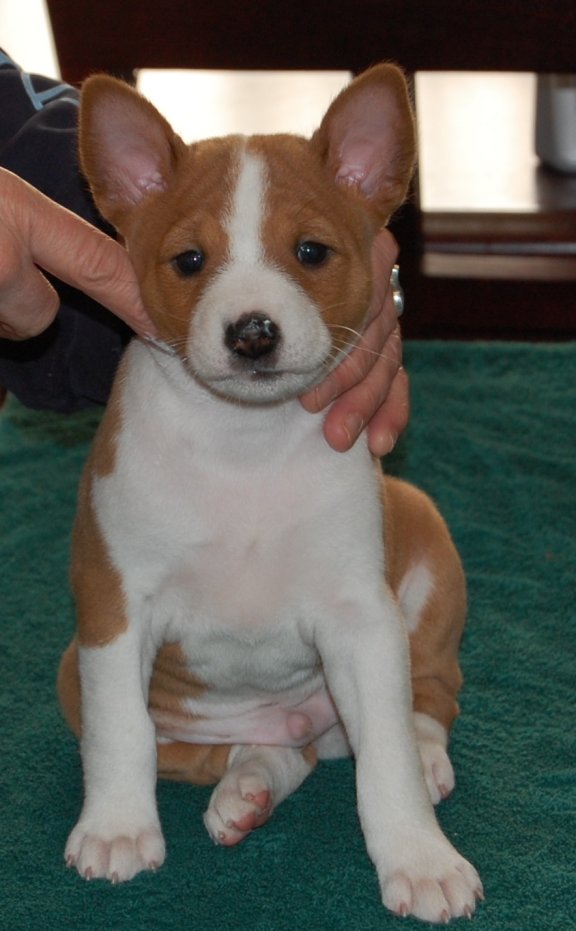 I
I'm Darius... I'm a calm and thoughtful guy...
AND, I was the first to let out a big, fat
BAROOOOO!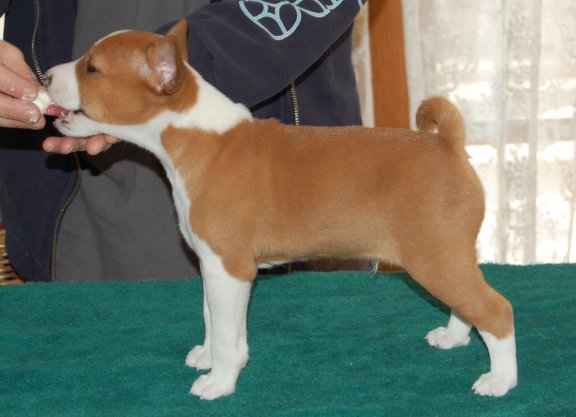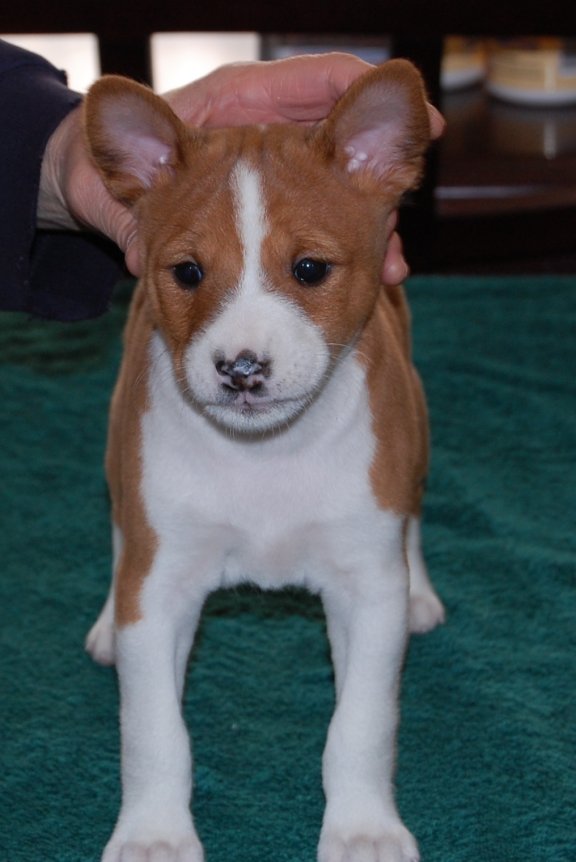 I'm Warren - and I'm very much into two things...
people.. and plastic!
When I trot around a room, all the
humans seem to notice....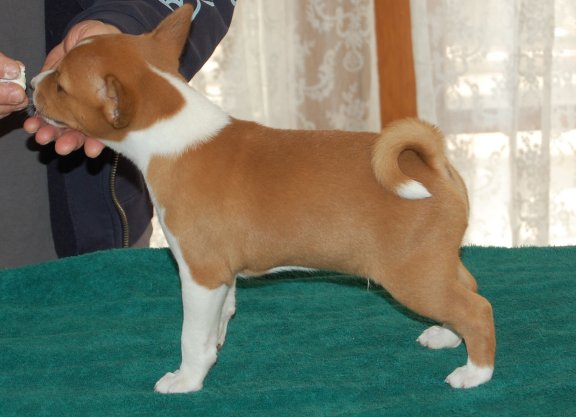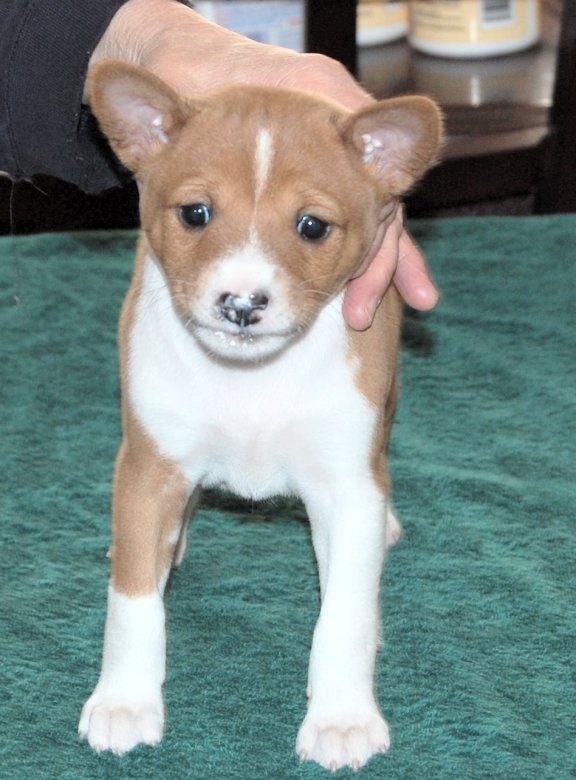 I'm Yossarian, and I like to hang out with
my partner in crime, Warren... I'd also
like everybody to know that my ears can go up
higher than this ... when my nose isn't
covered with cream cheese!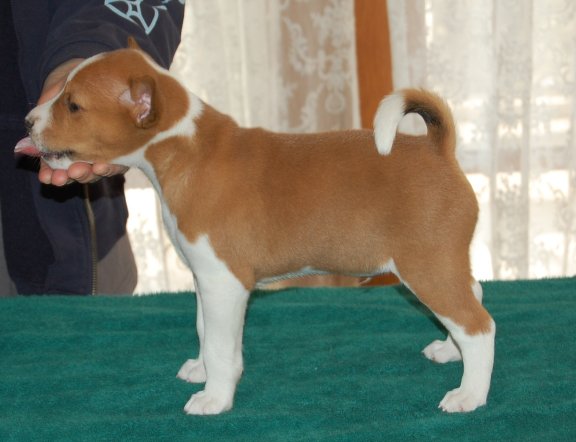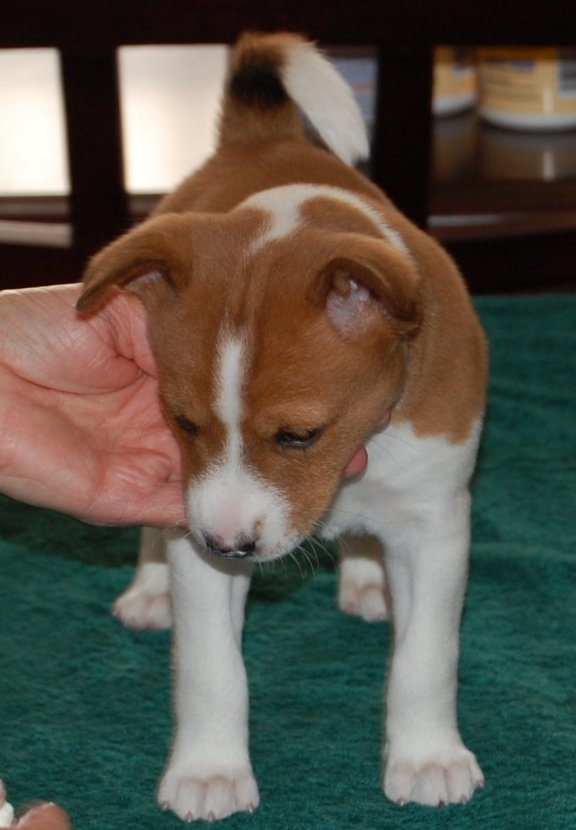 I'm Xul... I'm a little bit plain
on my show side -- but my off-show side
is extra-fancy (and will make its
début next week, so stay tuned!)...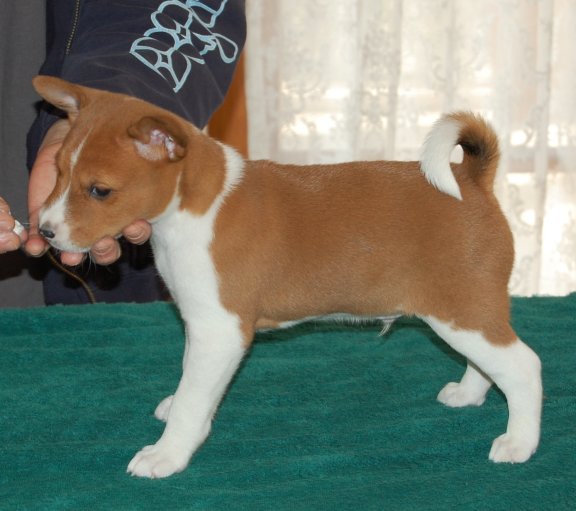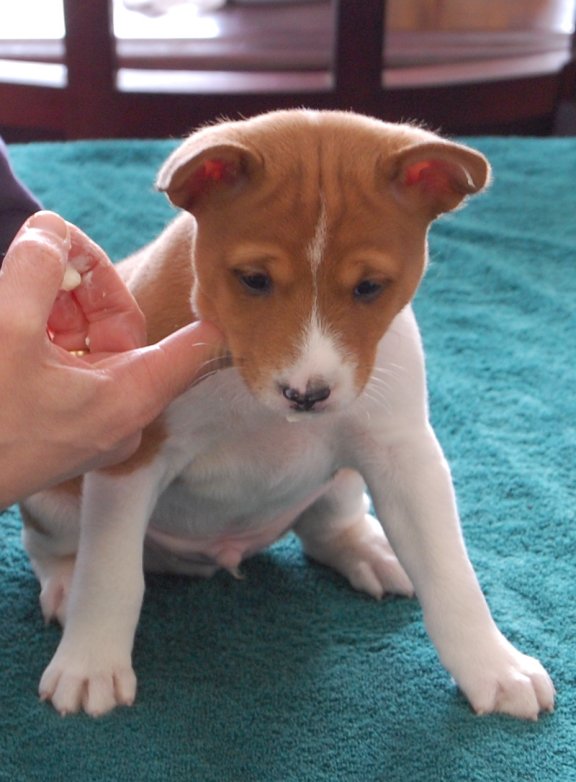 I'm Aleister - and I wasn't too happy to be awakened
from a nap to pose for these pictures ! Maybe
I'll try harder next week - if there's some hamburger
in it for me instead of this cream cheese....

We're ready for our close-ups,
Mr. DeMille!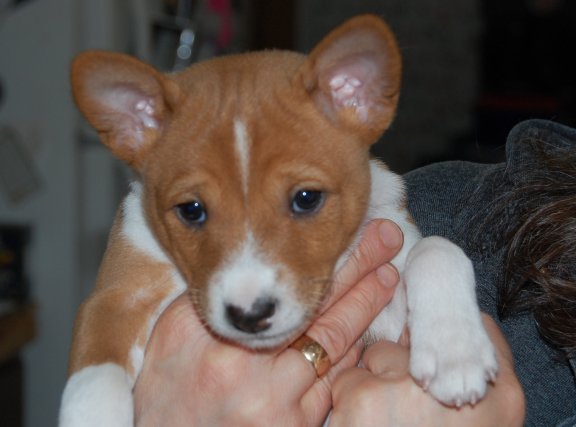 Aleister was a tiny bit sleepy....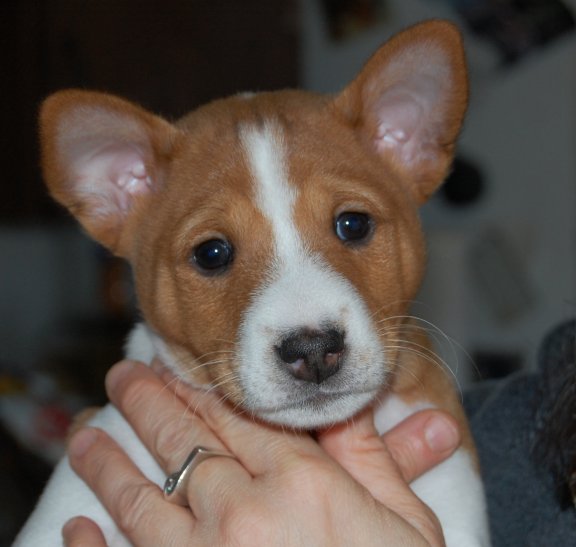 Xul was a tiny bit concerned...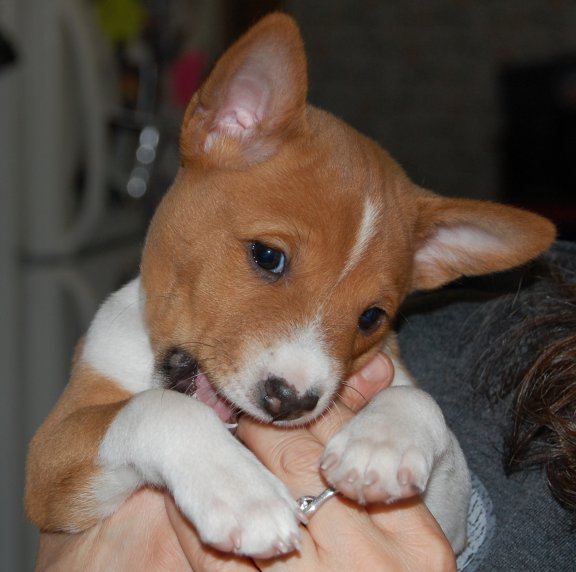 Yossarian was a bit of a rascal !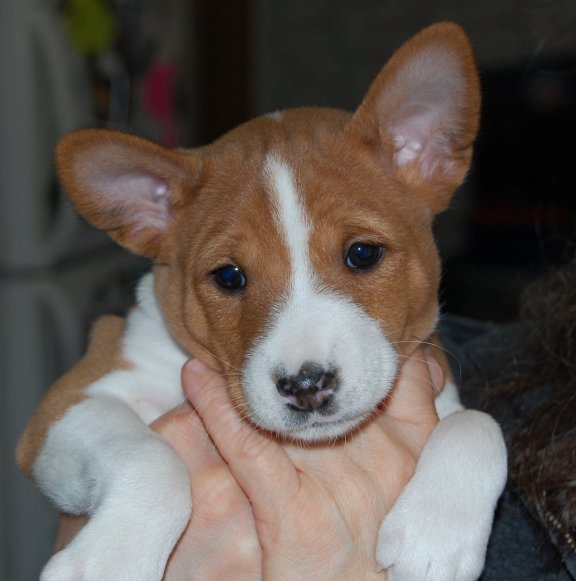 Warren was mellow - as usual...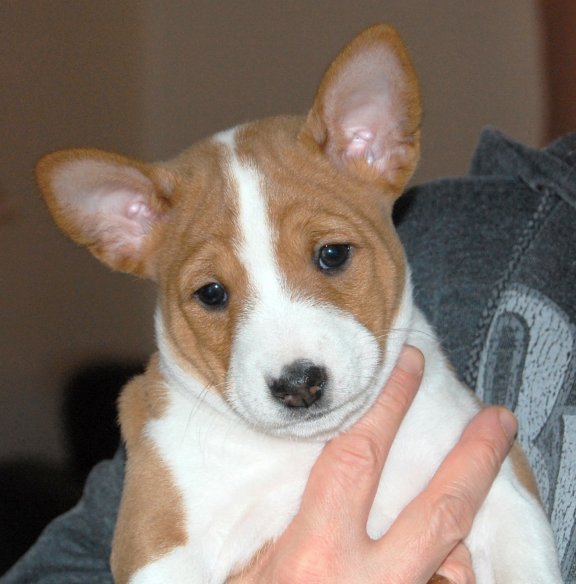 Darius gave us his best
"bringing sexy back" look!

The boyz love their
Uncle Kita - who knows
how to get a party STARTED !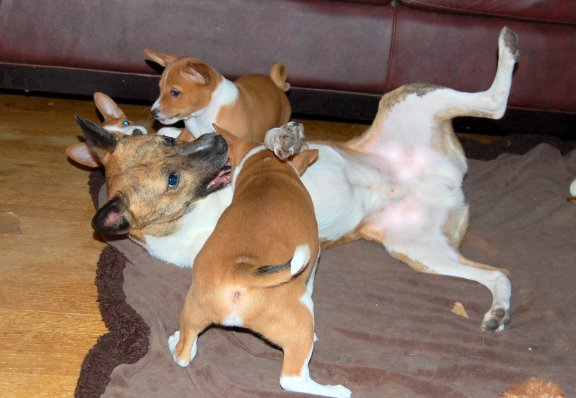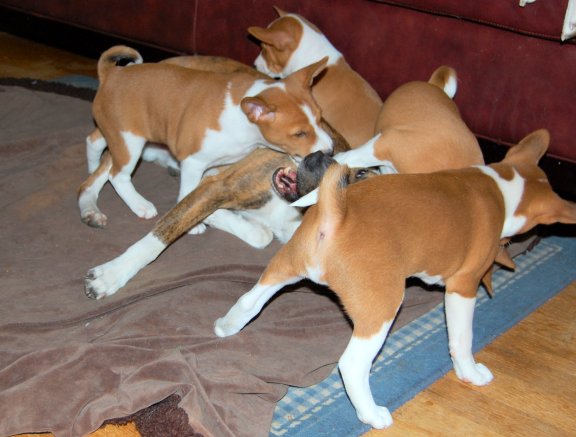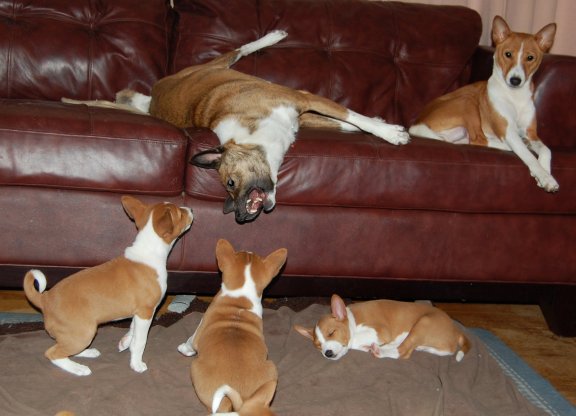 Notice Willow - sitting demurely at
the far right - enjoying the fact that the boyz
have a baby-sitter... : )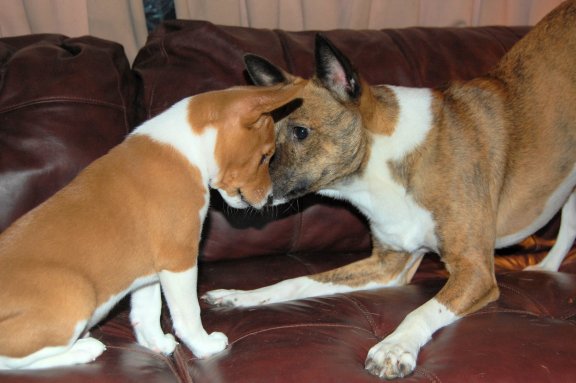 Here at long last - our 8 week stacked pix!
All of us didn't behave, and we haven't had
as much happy legs practice as we should...
But we did our best !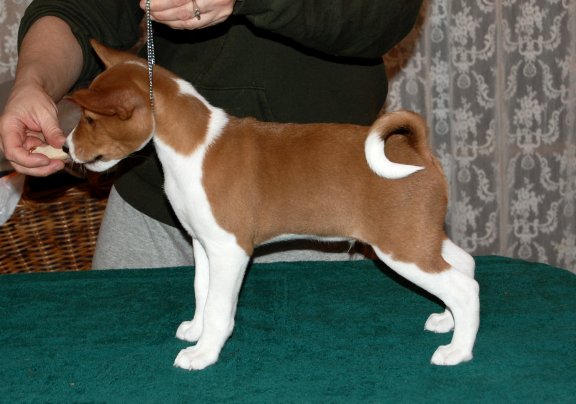 Aleister ! (Not too found of this collar !)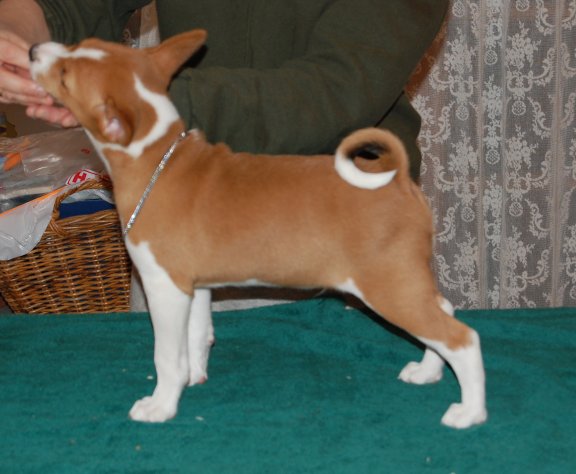 Xul ! (What camera? There's FOOD!)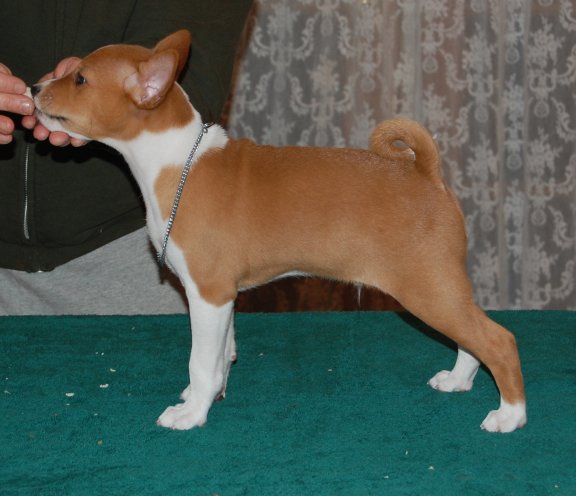 Yossarian ! (A bit frisky, as usual !)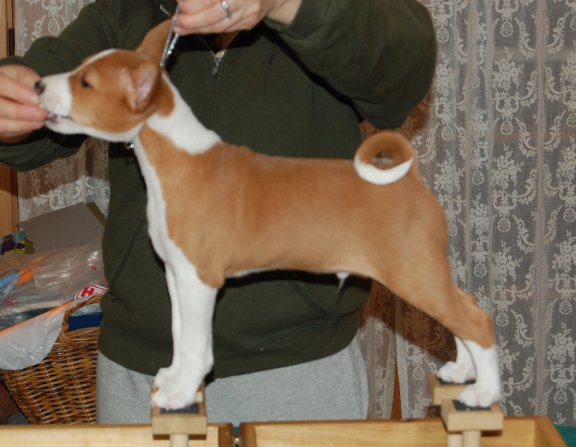 Warren ! (King of the Happy Legs!)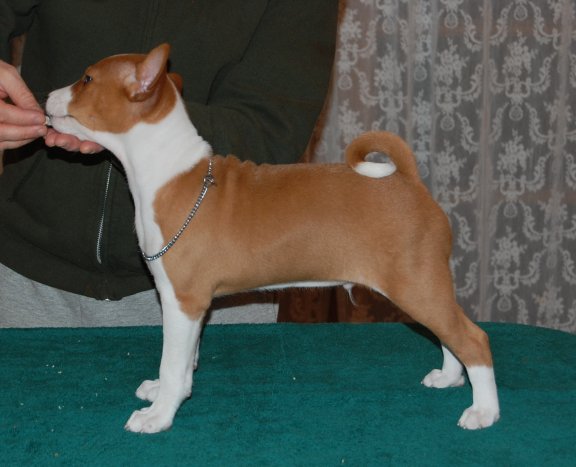 Darius ! (Not a Big Fan of the Bait !)

Watch for our 9 week pix and see if
we've worked on our happy legs skills
(except for Warren - who can
rest on his laurels !)


Click here to visit Willow's Page ! (more pix, etc.)