Lessons From The Past...

Below are several photos of Basenjis descended from our breed's original stock. All of them pre-date Fula of the Congo (1959 import) with the exception of the photo of Fula herself ! I'm publishing these old photos because I think it is important for us to remember what our "original" native dogs looked like, after only a handful of generations of "domestic" breeding. The comments made about each dog are strictly my own opinion -- I'm sure other owner/breeders may have different interpretations...!
Click here to see 1937 photos of original "of Blean"
Basenjis !
Click here to see some old Basenji advertisements
from my collection - including creams and blue/whites !
Click here to see some interesting 1920's
postcards from the Belgian Congo !
New! Click here to see Basenji photos and excerpts from
"The Land & Peoples of the Kasai" -- an account of
a 1907-1909 trip through the Congo !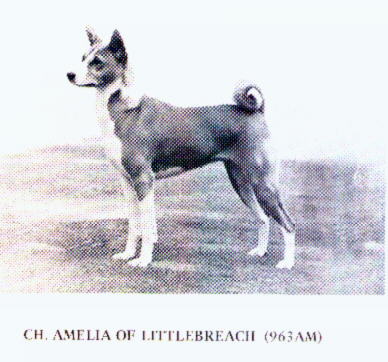 This lovely girl is Eng. Ch. Amelia of Littlebreach.
She was whelped in 1953, and goes directly back to
Kindu and Kasenyi in the third generation of her pedigree.
Amelia has beautiful angulation, a VERY long forearm,
a VERY long, well-laid shoulder blade, and wonderful,
long second thighs. Her tail set is high, and she
has handsome head-carriage. She's a bit high in the hocks,
but a very nice girl, all things considered!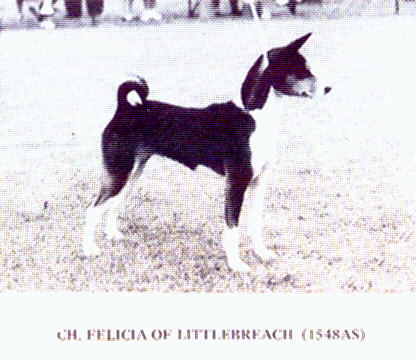 This is Eng. Ch. Felicia of Littlebreach. She, too,
is descended from pre-1959 imports, and goes back to native
stock within three generations (Kindu &Kasenyi).
I particularly admire her lovely neck-into-shoulders,
length of forearm, length of shoulder blade, and
long second thigh. This girl also maintains a high-on-the-leg,
"square" appearance while still having enough
length of loin to move well.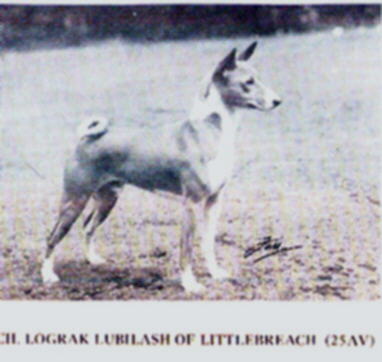 I wish I could get a better scan of this truly outstanding
male - Eng. Ch. Lograk Lubilash of Littlebreach.
Once again, he goes back to pre-1959 native stock within three
generations. What a STELLAR dog! Wonderful
neck-into-shoulders, balanced forearm and shoulder
blade length, perfect shoulder layback, and exceptional
length of second thigh and overall angulation.
No dog is perfect -- but this boy comes close in my book!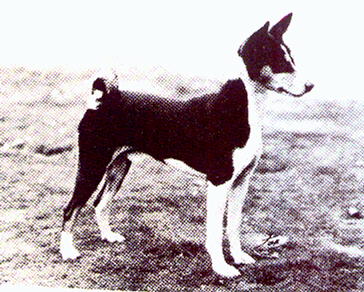 Another pre-1959 stock dog going back
in three generations to Eng. Ch. Brown Trout of
the Congo, and Crackertwo of the Congo, among
others... He is Eng. Ch. Lograk Lido -- sire of
Eng. Ch. Lograk Lubilash of Littlebreach, pictured
above. While his son has better "fill" in front,
it is easy to see that this dog passed many of
his exceptional qualities to his offspring.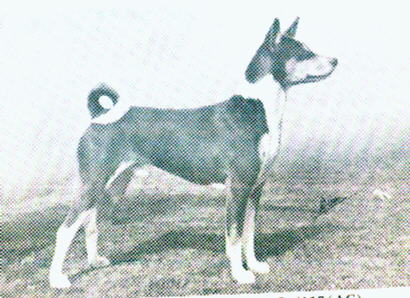 Eng. Ch. Black Ace of the Congo --
whelped in 1946, goes back to Amatangazig
of the Congo in four generations. While he
could have used more second thigh and shorter
hocks, he makes my "favorite oldies" list for his
beautiful front assembly. His forearm and
shoulder blade appear to be perfectly equal
in length, and his neck into shoulders and
topline make a very handsome picture.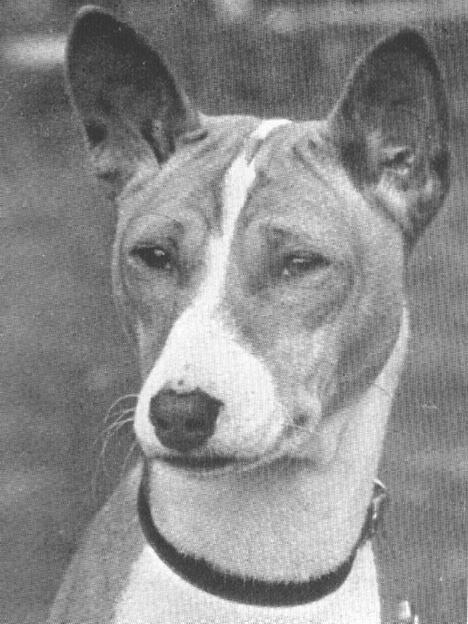 This is Flamboyante of the Congo...
She goes back to Bongo & Bereke of Blean, as
well as Bokoto and Bachwa of Blean. Vernonica Tudor
Williams describes her headpiece as "almost perfect" in
her 1946 book "Basenjis - The Barkless Dogs"
Note her eyes, eye placement, prominent brows,
ear-set, side-wrinkle, cheeks -- and muzzle "cushions."
Her head is well-chiseled, with all of the
"planes" in proper proportion.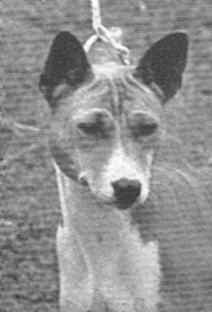 Eng. Ch. Petal of the Congo is also described
by Veronica Tudor Williams in her 1946 book
as having a "nearly perfect" head ...
Petal is decidedly "feminine" - yet her head has more
substance than is typically seen in bitches of modern vintage.
Her ears are not "tiny" but are beautifully placed. She has
good wrinkle, eye shape and placement, and again,
that handsome muzzle-cushioning that seems to be
missing on many of our modern Basenjis!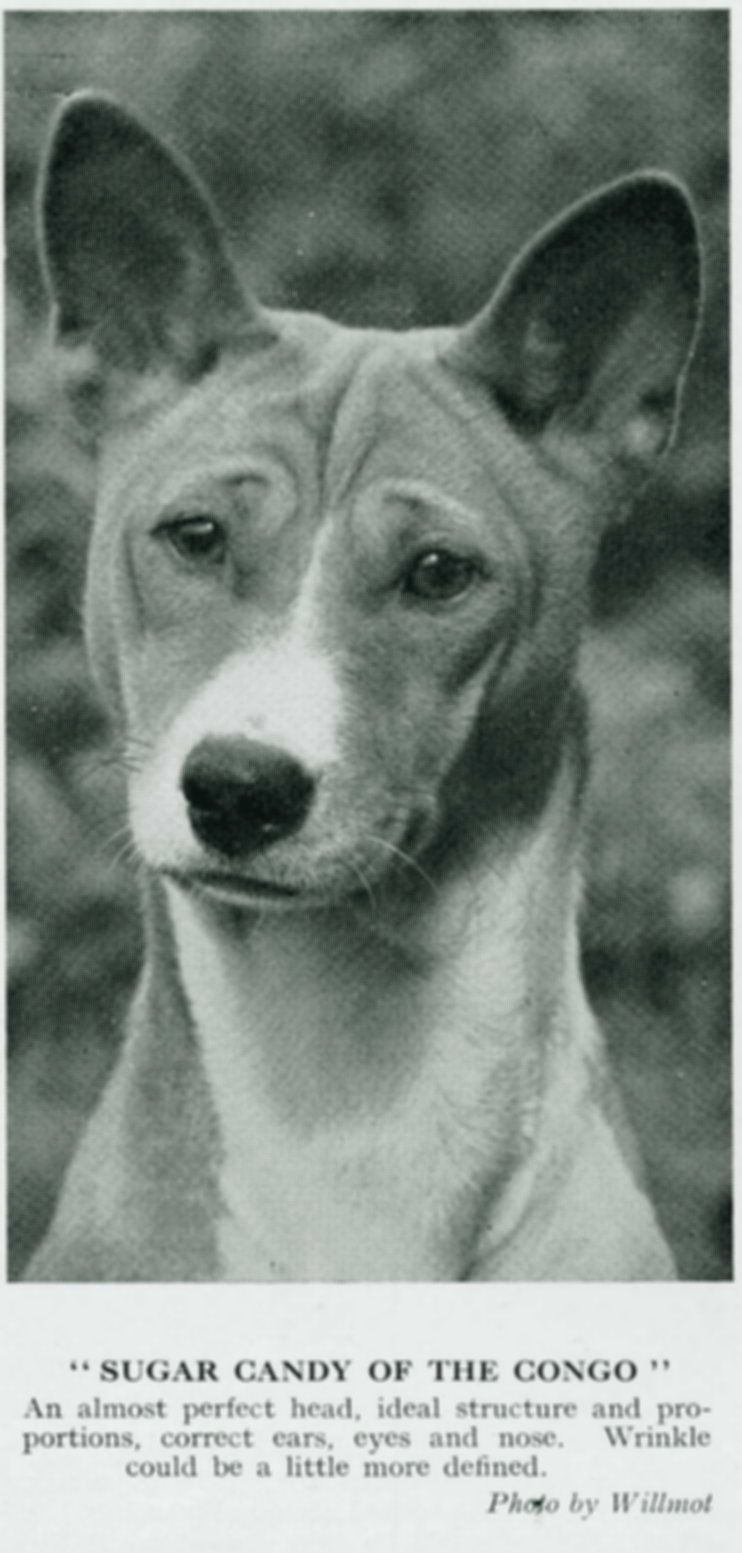 In 1946, Veronica Tudor Williams selected
Sugar Candy of the Congo's head type as
one of her favorites.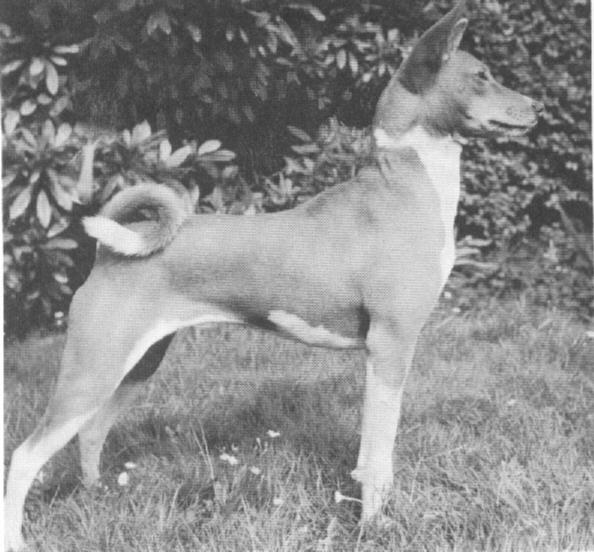 If a single Basenji can be said to have had
a profound impact on the breed, it is
this girl - Fula of the Congo (imp. 1959).
Click on the photo of Fula to read
a critique of her virtues by her owner
and importer, Veronica Tudor-Williams....
Some General Observations
The dogs shown above have many things in common with the way our Basenjis look today. That's a good thing! But there are, in my opinion, some significant differences. These dogs seemed uniformly to have forearms and shoulder blades that were LONGER than our modern Basenjis, and that were very nearly equal in length. The shoulder layback is far better than what one sees in an average American show ring. So are the tail sets and, in my opinion, the head-pieces. The loins are somewhat longer than what we typically see today -- yet the toplines appear "harder" [more level]... This is probably due to many factors, but primarily a confluence of correct shoulder layback, length of forearm, length of second thigh, pelvic tilt, and overall angulation, front and rear.
As a breeder [on a very modest scale] who is concerned about maintaining native type, I refer to these and other photos of original imports and their immediate progeny often. In them, I find important points of reference to guide my efforts to maintain some semblance of "native" type and movement. I have found many of the features that are important to me (in terms of preservation of native type) in our 1987-88 imports from Zaire ....
Back to basics, once again!


To Our Index Page

Copyright 2000
Karla A. Schreiber