The New World Story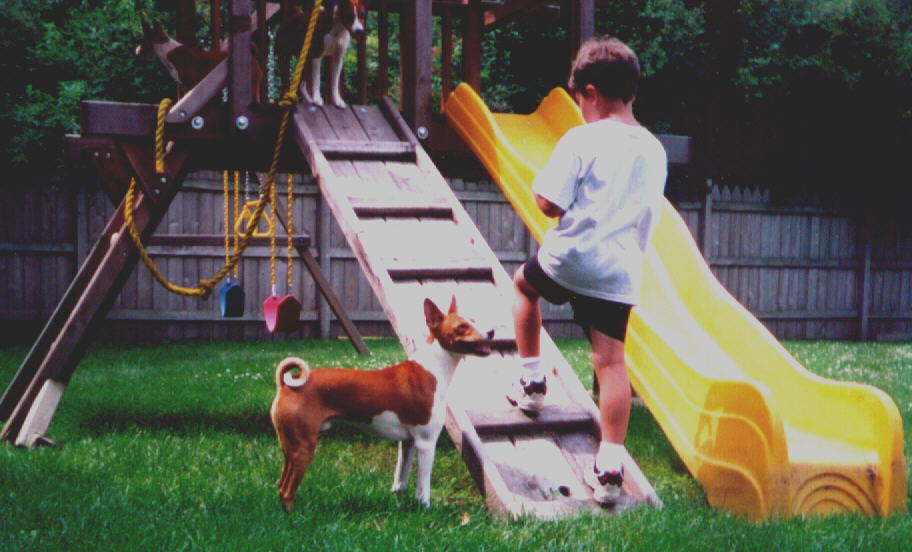 Aaron with Ninja (& Dulcie & Mirrie "on deck") - Aug. 2000
In The Beginning...
In 1988, I was finally in a position to own a dog-something I'd waited for my entire life. All through college and law school, through a string of "no pets" apartments, I waited impatiently. As I planned to get married and move from an apartment to a townhouse, I knew that my ship was about to come in! I plowed through dog encyclopedias searching for a breed that would suit my active [ok, hectic!] lifestyle. Finally, I settled on the Basenji--a small, athletic, beast- short on coat and long on personality.
Max Makes His Mark...
I talked to many breeders, and finally settled on a pup from Jon & Vicky Curby, Kibushi Kennels. I drove down to Missouri to look at the litter and to be "interviewed" by Jon and Vicki- who over the years became not only my mentors, but my friends. I fell for a handsome little red & white boy- but there was a hitch. The boy I picked (Max, of course) was a "show puppy." Little did I know, as I cradled that little bundle of joy, that a whole New World was about to open up for me!
The Brindle Bullet Hits Home...
I met many great people while showing and lure coursing Max. And when Max turned two, I brought home Callie, our little brindle half-African girl to keep him company. Not destined for a show career, Callie excelled on the coursing field. She also gave me first-hand experience with some of the unique characteristics of our "new" native African Basenjis imported from Zaire in 1987-1988.
To Every Season, Turn, Turn, Turn...
As my interest in Basenjis grew, I became more involved with the Basenji Club of America. In 1990, I was asked by the BCOA to provide the legal work necessary to establish a not-for-profit corporation through which the BCOA could fund scientific research on Basenji health issues. I dove in head first--and surfaced some 5 years later--when Basenji Health Endowment received permanent not-for- profit, charitable status from the IRS. In part as a result of my work on the Endowment, I developed an interest in canine genetics. I also became more involved in the administration of the BCOA & the Endowment, and enjoy the opportunity to give something back to the breed and to the people who have enriched my life.
The Exodus -- And "The African Queen"...
To shorten a long story, the townhouse and the husband didn't last, but the BASENJIS did! Out on my own again in 1994, my young son and I decided to bring home yet a third edition; our impish red 1/2 native African spitfire, Mirrie-Belle. I had a funny feeling that this was truly a new beginning for all of us! Boy, was I right!
A Whole New World...
Our spunky Ms. Mirrie earned her AKC Championship handily, and soon moved on to "bigger and better" things as the foundation bitch for my breeding program. I think Mirrie really exemplifies my kennel slogan, The Best of Both Worlds. That phrase expresses a great deal about my philosophy and "game plan" when it comes to breeding Basenjis: strive to produce dogs that are healthy, functional, true to native type [yes, that means beautiful!], and that possess temperaments well-suited to life as a companion animal.


To Our Index Page

Copyright 2000
Karla A. Schreiber