Why Pay All That Money
For Kennel Aire Crates?

HERE'S WHY...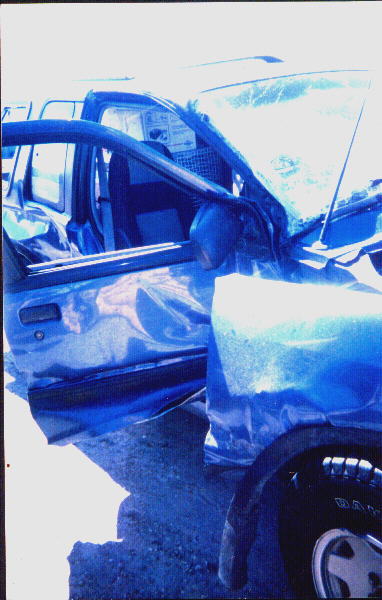 On a sunny Monday afternoon in July, 1997, Kirstin Sigrist [Istari Basenjis] and I were driving from Missouri to the BCOA National Specialty in Denver, CO. Just outside of Colby, KS, we were hit by a three-trailer semi. The photo above is of my Mazda Navajo after the collision -- sitting in a Colby junk yard...
What does this have to do with crates for your van or car?
EVERYTHING.
We were traveling with four Basenjis, and were using three different types of crates -- a General Cage Wire Crate, a Deluxe Vari-Kennel Crate [plastic] and a nine year old Kennel-Aire Commander-series crate. The only crate that survived this accident intact, and the ONLY crate that protected its occupant from significant harm or potential death was the Kennel Aire crate.
On impact, the General Cage Wire Crate literally came apart at the seams -- the wires became unsoldered and turned inward -- impaling the dogs inside it. The crate door came open, allowing one of the Basenjis to escape onto the highway. Amazingly, the Basenjis in this large wire crate survived the accident, and the escapee was recovered. Both, however, had puncture injuries from the crate wires.
On impact, the Deluxe Vari Kennel compressed from both sides [due to the force of the collision] and the door flew off. The Basenji riding in this crate roamed through the tangled remains of the back of the Mazda for a few moments, before fortuitously deciding to climb into my lap. When I regained consciousness [which, of course, I might not have) I grabbed her collar and held on -- thus prevent her from roaming the highway and possibly meeting her
death ...
On impact, the Kennel Aire crate was dented at its base. The dog inside suffered a mild concussion, some bruises, and a torn toe nail. The dog was nine years old. The crate was nine years old. Today, both the dog and the crate are TWELVE years old. Both are still worth their keep!
I learned many important lessons from this experience. One of them is that, in a split second on a bright, sunny day, your life can change forever. And in a split second, some of the things you hold most dear -- that make your life worth living -- can be snatched away. The Basenjis involved in our accident (and thankfully the humans as well) were miraculously spared from death or serious injury. But the crates that three of the Basenjis rode in that day were NOT part of that miracle. They were part of the nightmare.
If you travel with your dogs in your car or van, please consider purchasing a Kennel Aire crate -- or a crate of similar design and strength. The crate that survived our accident was a Commander series Kennel Aire crate, with the "old fashioned" Y-latch rather than the newer cam-lock. I cannot overemphasize the fact that the doors of both the General Cage Crate and the Vari-Kennel crate came off, or flew open, on impact. The unique "Y" latch employed by Kennel-Aire did not. Yes, Kennel-Aire (or comparable) crates cost more money -- but you will have gone that extra mile to protect your dogs from harm.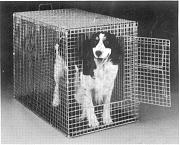 Photo of Kennel Aire
Commander Series Crate.
Call 1-800-346-0134 to order.
Four months after this accident, two of the Basenjis involved (Max and Mirrie) blessed me with a beautiful litter of six puppies. Often when I look at them, or any of their babies, I still think about how that July afternoon MIGHT have ended -- and all the dreams that might have ended with it. If you use cheaper crates in your car or van, or no crates at all, PLEASE consider my experience and purchase quality travel crates. Other types of crates are fine for home or hotel use, but don't provide sufficient protection in an auto accident. Like insurance, you may never wind up needing that "extra" protection. But if and when you do, it could prove to be the difference between life and death -- and many, many tears.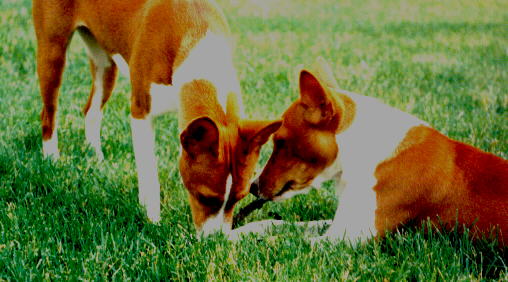 Dulcie & Ninja -- two of the pups from
Max and Mirrie's November 1997 litter....
Summer, 2000.


To the "Meet The Kidz" Page

To Our Index Page

copyright 2000
Karla A. Schreiber