IN MEMORIAM ...
UCI/AKC Ch. Kibushi Anything Goes, T.T., CGC, F.Ch.
"Max"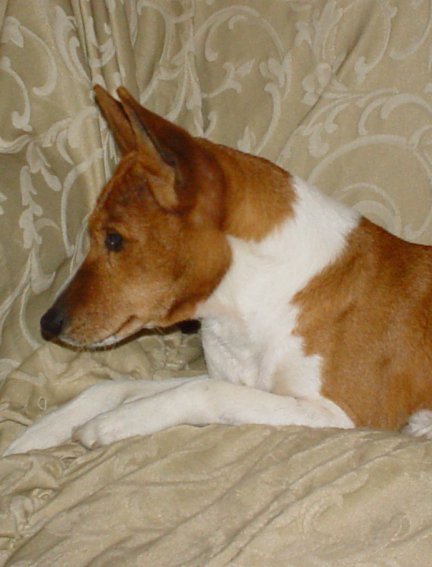 November 23, 1988 - January 17, 2004
During the week of January 11, 2004, Max developed progressive paralysis in his rear legs, probably due to spinal cord compression from spondylosis (calcification of the vertebrae in his lower back). By Thursday, the 15th, he could no longer walk - and let us know that he was tired and did not want to go on.
Aaron and I miss our dear friend of 15+ years. He gave so much, and asked so little in return... No one could have asked for a better "first" dog, show dog, coursing dog , breed ambassador, or - most importantly - loving companion. Max taught us many lessons about life with Basenjis, and gave us ten handsome offspring (now ages 11 and 6) to remind us of him now that he's gone. While it has been a sad week here, we look forward to the impending arrival of Dulcie's pups (Max's grandpups), and to watching them grow and mature.
Max has set the bar very high for us. Everyone who owns a Basenji deserves a Basenji like Max... a Basenji who lives a long, happy, healthy life, unfettered by chronic disease and suffering. Our ongoing tribute to this wonderful old boy will be to do whatever we can - in our own, small way - to give others the same chance we had to know, and love, this very special dog - and this very special breed.
Goodbye, old friend - until we meet again.
--Karla & Aaron-