Meet Mirrie!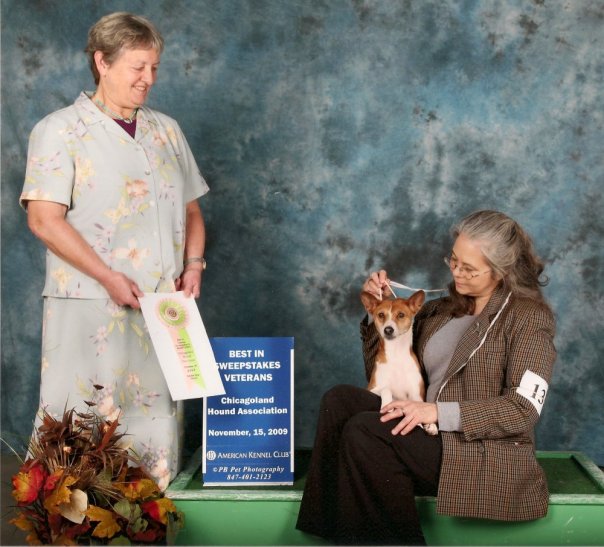 Ch. Kibushi Neverminds New World, J.C.
Whelped November 15, 1994
(Avongara Diagba x Ch. Kibushi All or Nothing)
Mirrie, our foundation girl, is pictured
Winning Best Veteran in Sweepstakes
on her 15th birthday at the Chicagoland
Hound Association Show in Wauconda, IL ...
We both have more gray hair than we did
when this journey began - but we're still truckin' !

Mirrie is the second half-African addition to our household. She's an Avongara Diagba daughter [that makes her Callie's half-sister] -- and she is a very distinguished lady! She is Diggy's only finished pup, completing her AKC Championship just a few weeks shy of her 16 month birthday with 4 point and 5 point majors. She is also, to our knowledge, the first (and for many years, the only) 1/2 native African Basenji to win a Group placement at an AKC all-breed show..
In September, 2000, Mirrie made a little more history by making the cut in Best of Breed at the BCOA National Specialty. Mirrie's claim to fame is her amazing reach and drive. She can cover ground effortlessly, with breath-taking strides that define proper Basenji movement.
And Now, Some Poetry ... in MOTION!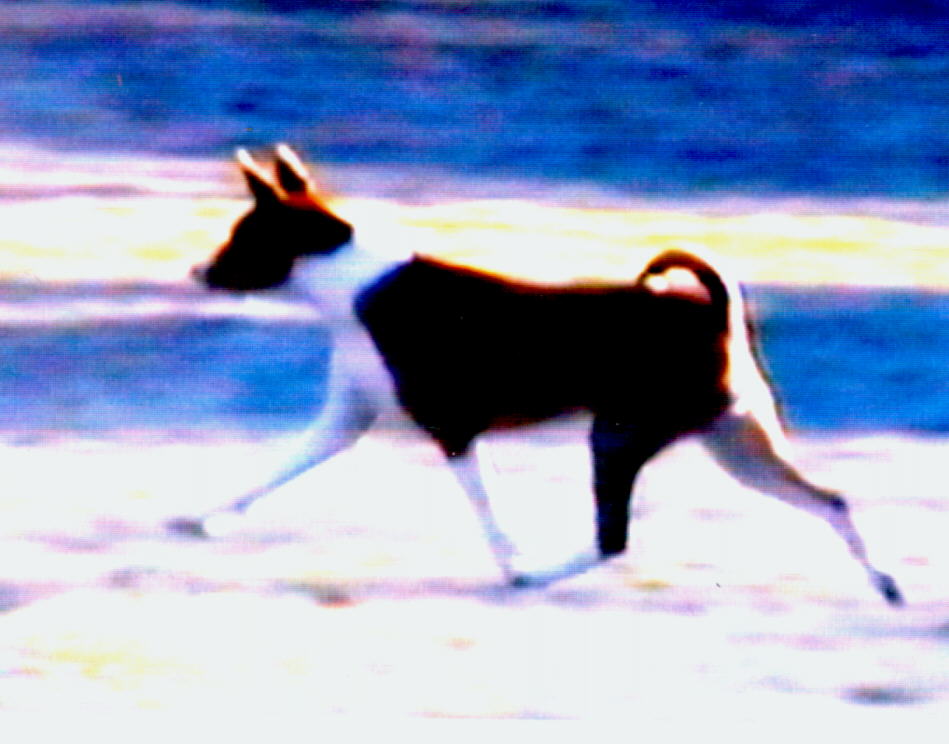 Here is the "inside" view of Mirrie's sidegait --note the two inner feet are just barely touching, and that the front and rear extension are completely balanced...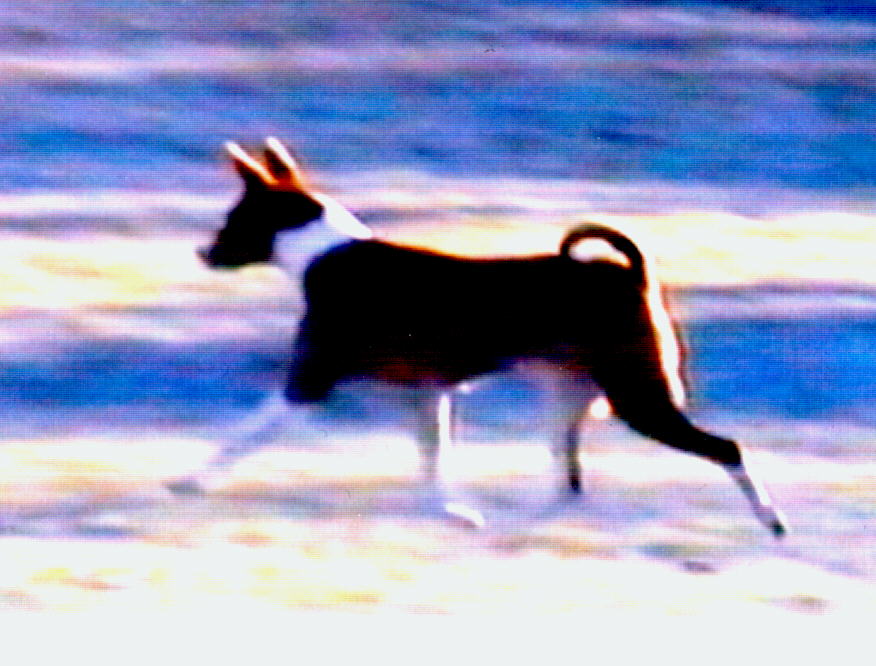 Here is the "outside" view of the same gaiting sequence. Note that Mirrie's forearm is moving from the shoulder and not from the elbow. Note also that a straight line can be drawn from the tip of Mirrie's shoulder blade to her forepaw. Rear extension matches front extension, and the topline remains level.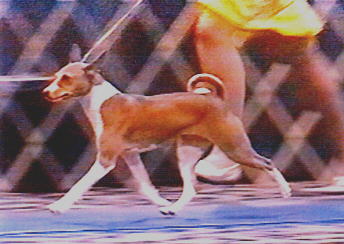 This photo of Mirrie from the 1997 BCOA National
illustrates another important point: Her neck and
head are NOT pulled back behind her shoulder blades,
but are where they should be -- extended out in front of her,
giving her movement a functional elegance....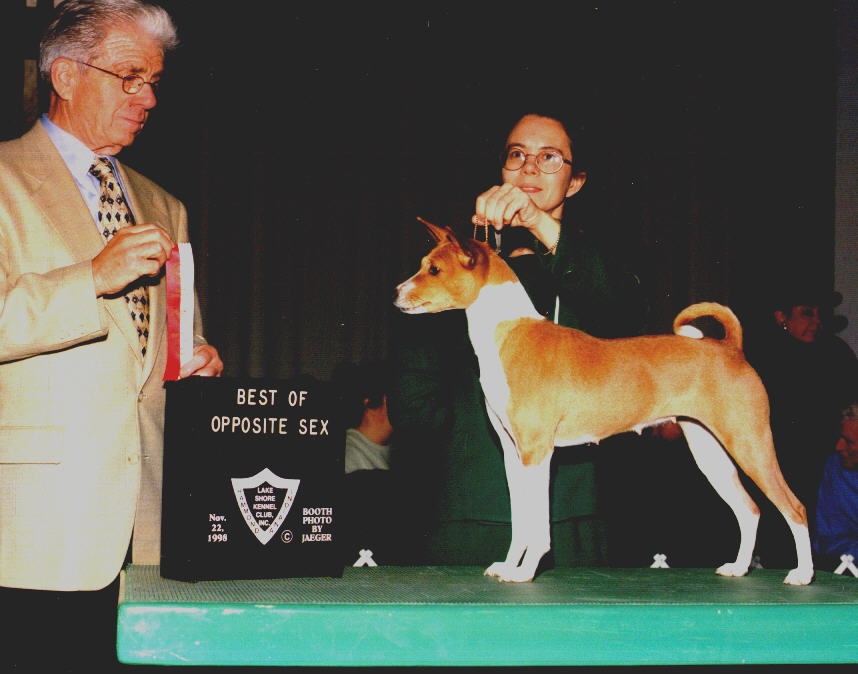 Mirrie, winning BOS at a local show in 1998.
At age 4 yrs., this was her first trip back into the show ring
after giving birth to her 1997 litter of six pups!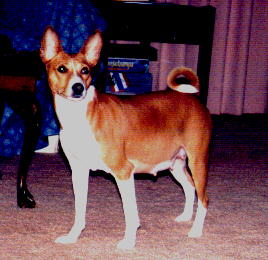 Mirrie, just a few days away from whelping her
1997 litter of six... "So, you think this is FUNNY do ya??"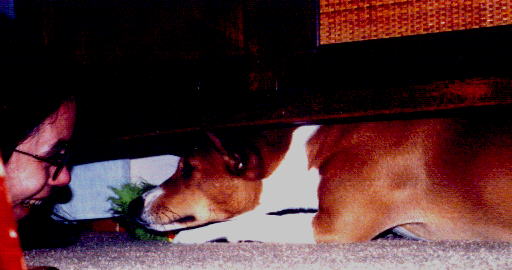 Mirrie and I are having a little "discussion" in this photo.
I'm attempting to convince her NOT to have
her litter underneath of my china cabinet.
Mirrie appears unphased by my persuasive arguments!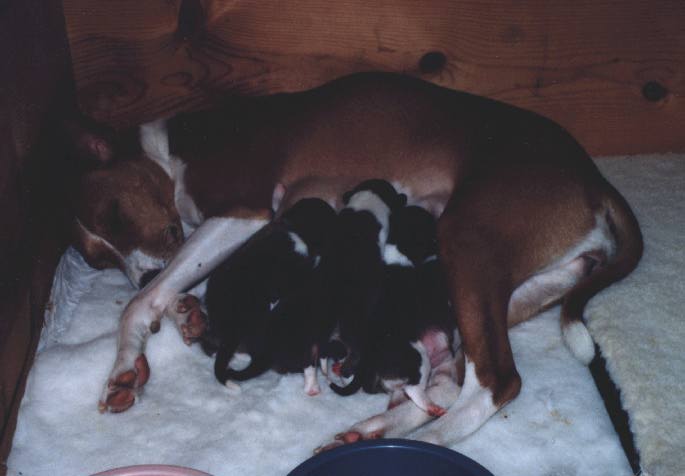 Logic wins out! Mirrie opts for the whelping box --
with exceptional results! What a wonderful
mama she was ... and is!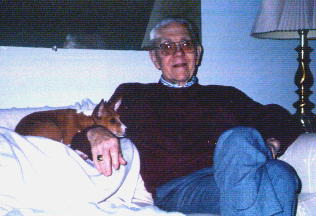 My Dad really enjoyed all of our Basenjis...
But Mirrie seemed to love him best of all.
This is a photo of Dad's last visit with us in February 1995.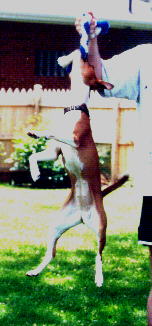 Hang in there, Baby! Mirrie in June, 1997 --
Yes, she jumped up to GRAB the toy, and decided
that it would be fun to just hang on!!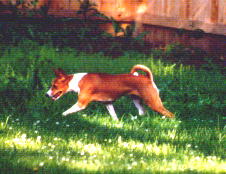 Here's a 1997 photo of Mirrie "hunting"
in our backyard... She maintains a dead-level topline and
expansive read & drive -- even in a typical hunting stance,
with head "out and down," scouting from game!




To The "Meet The Kidz" Page

To Our Index Page