Meet Callie!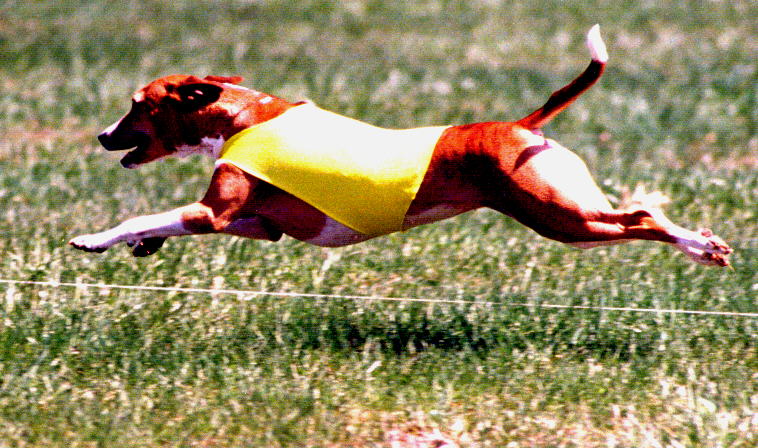 Kibushi Brave New World, LCM 3
Whelped November 9, 1990
(Avongara Diagba x Ch. Kibushi Flashire)

News Flash! Click HERE to read about Callie's
close encounter with a Subaru Outback!

Callie was the second Basenji addition to our household, and our first half-native African Basenji. Dubbed "The Brindle Bullet" by her coursing comrades, Callie has been running in ASFA field trials since the Spring of 1992. For lack of better words, Callie is one AMAZING courser!
Miss Callie completed a new title in September 2002 ! Click HERE to party with us in cyberspace !! Click HERE to see new coursing photos of Callie that celebrate the fun of coursing - even for "old gals!"

Here are some of my favorite pictures of Callie...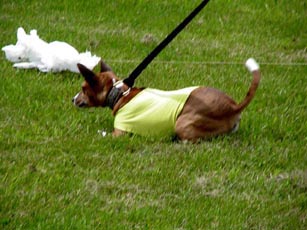 Callie demonstrates her trademark "tail thrash" --
while waiting for the lure to come around
at BCOSW's Spring, 2000 ASFA Trial!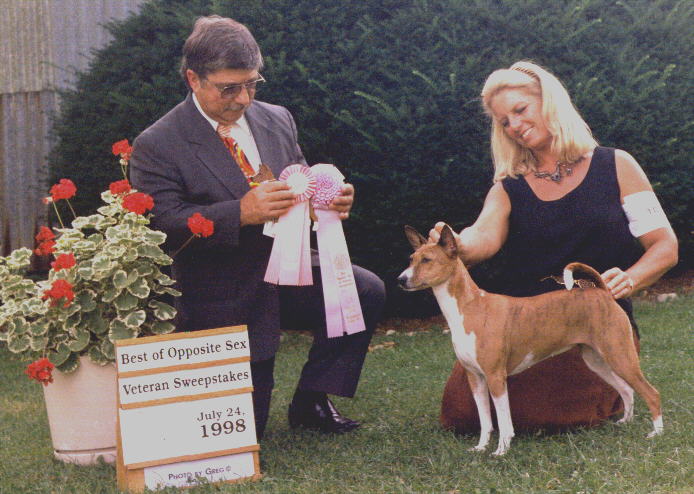 Callie winning BOS in Veteran Sweeps
at the 1998 BCOSW Specialty with handler Sue Lynch...
Callie had been thoroughly SKUNKED early that morning!
(Ongoing & sincere apologies to Judge George Gavaletz!)

A Lesson in "Agility" on the Field...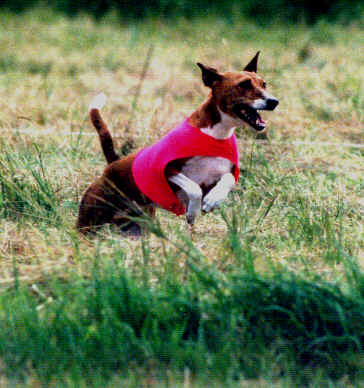 The "spring-up"to sight the lure...
The mid-air "spin"....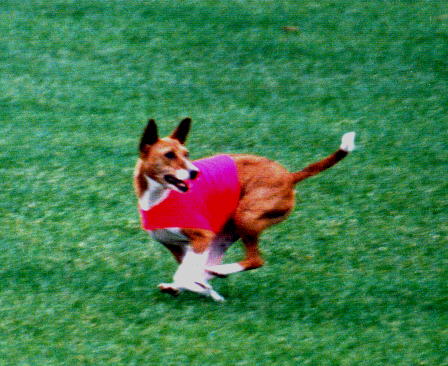 The "take!"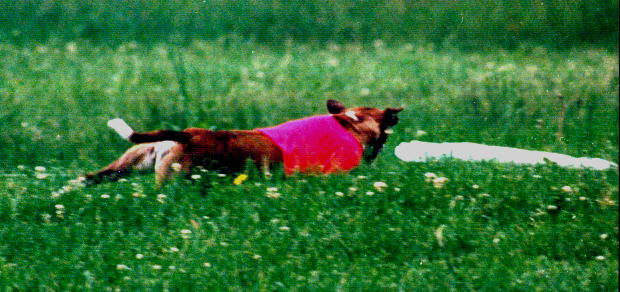 Callie runs for the pure joy of it!
She really does have "the time of her life" on
every single course!
** These wonderful coursing photos are courtesy
of Dan Gauss, "Shot On Site Photography" -- who
has captured many of Callie's classic "moves" on film...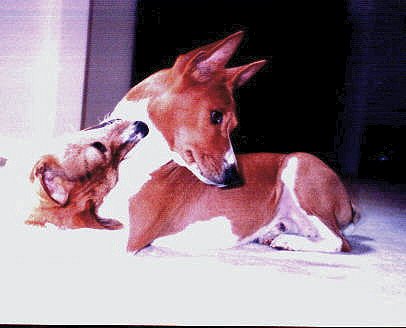 Young Callie and Max, playing in a sunbeam....
March, 1991. Aaah! The very picture of bliss!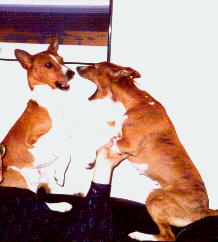 But then, there was that time
when Callie tried to SWALLOW Max...
(thankfully she wasn't successful!)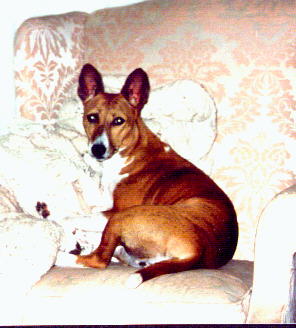 Ms. Callie's "preferred position" --
unless there is an errant bunny that needs chasing!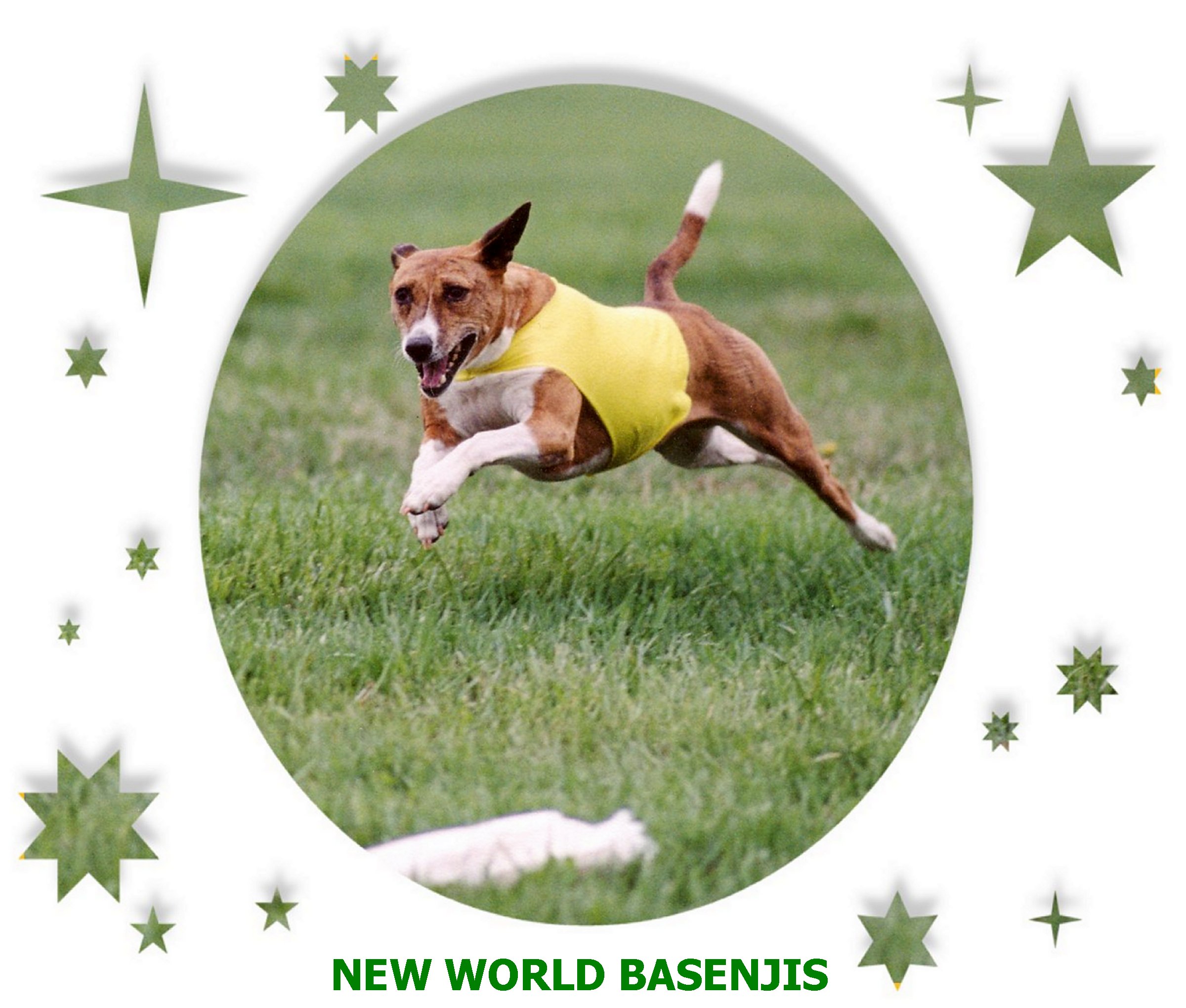 On November 9, 2005, Miss Callie will be 15 years
young. She is still going strong, never misses a meal,
and is my official "Bed Dog" -- although she now needs a nightly
boost to get up onto my four-poster. We proudly
salute our resident matriarch - whose registered name provided the
inspiration for our kennel name... This remarkable little half-African
daughter of Avongara Diagba, whelped in 1990, has taught us so much -
and we are grateful that the lessons continue!


To The "Meet The Kidz Page"

To Index Page