"Willow"

AKC Ch. New World Wild Age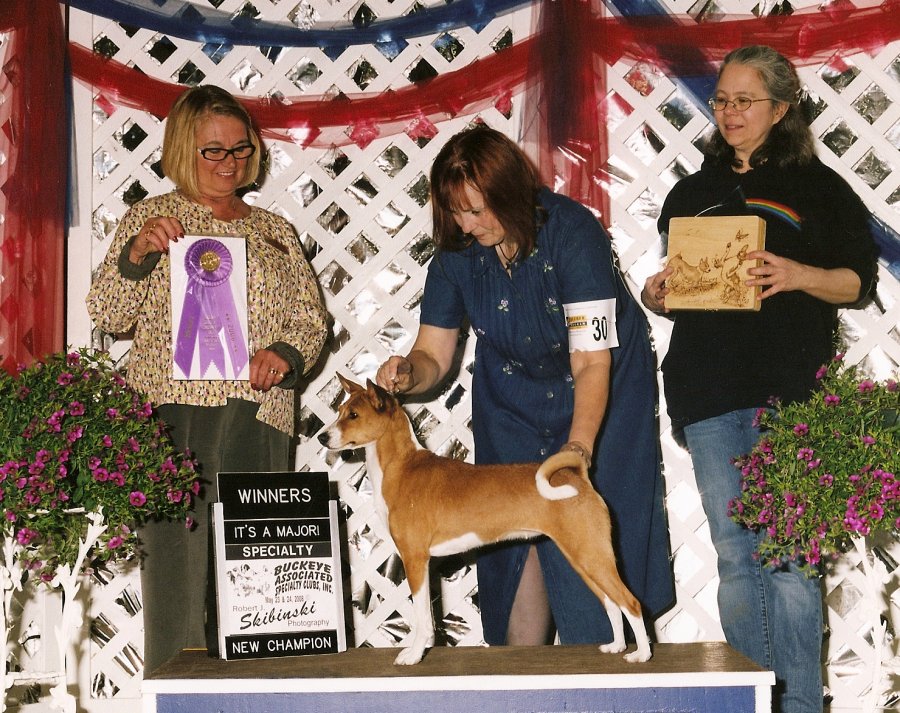 (Ch. AB Maverick of Keltwyn, F.Ch. , JC, GRC x New World Heart Like a Wheel)
Whelped 01-23-2004
Page last updated May 25, 2008
**News Flash!
On May 24, 2008, Willow finished her
AKC title in style - taking Winner's Bitch
for a five point Major at the Basenji Club
of Cincinnati Specialty Show
under Judge Mrs. Carol Spritzer!!
Thank you to Judge Spritzer, and to my
dear friend Annette Muenter (Sunrise Basenjis),
who expertly piloted Willow to this
memorable win !
**News Flash #2!
Her first time out as a new Champion,
Willow was BOB over three very nice specials
at the Stone City K.C. show
on June 1, 2008. Thank you to Judge
Jim Briley for this win!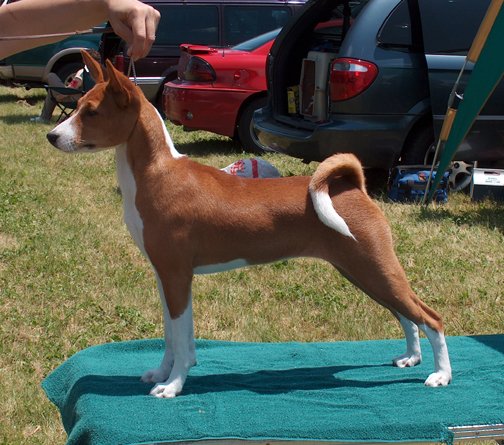 Willow attended her very first puppy Match on Sunday, June 27, 2004, at barely 5 months of age, and won her class over some very nice competition. We were thrilled with her effort, despite the fact that the heat and bugs (and teething) caused her to have a "bad tail day!"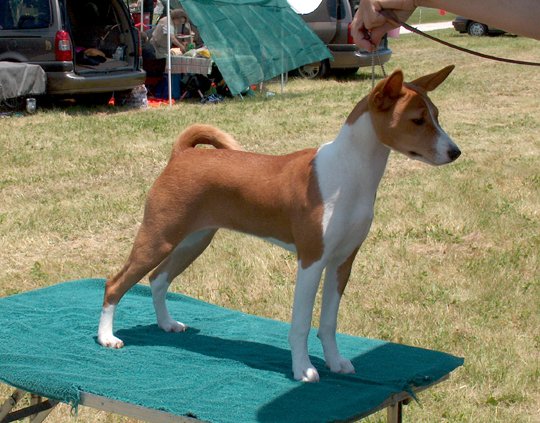 Here's another shot of Willow after the Puppy Match...... Thanks to Wanda Pooley (Adventureland Basenjis) for the lovely post-match photographs.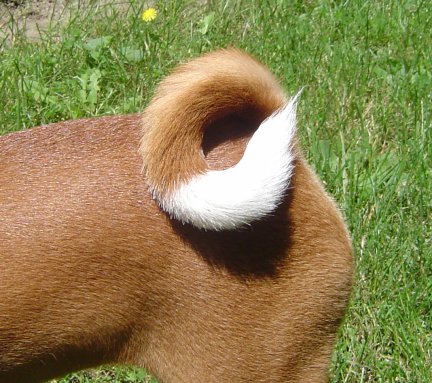 Here's a post-teething photo (July '04) showing
off the fact that Willow's tail has returned to its
former glory, now that all those silly puppy
teeth are out of the way !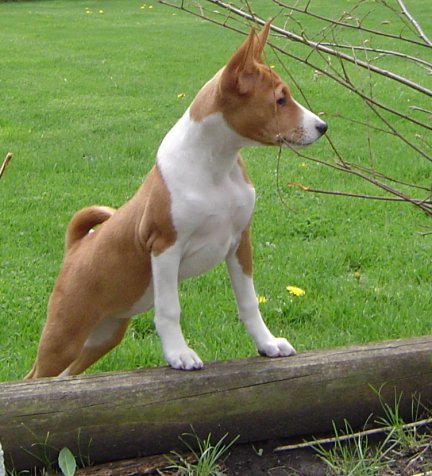 But don't think Miss Willow is all work and no play ....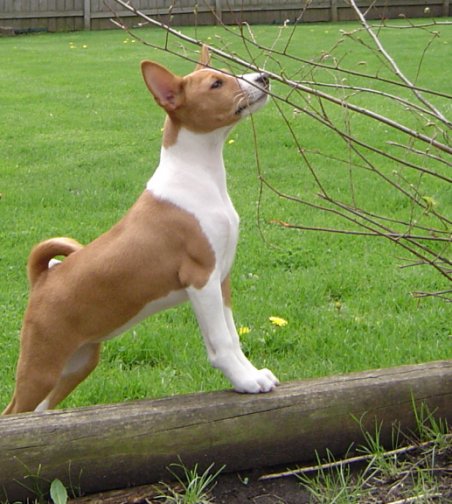 She's a girl who knows how important it is
to stop and smell the roses (or at least the buds of Spring)!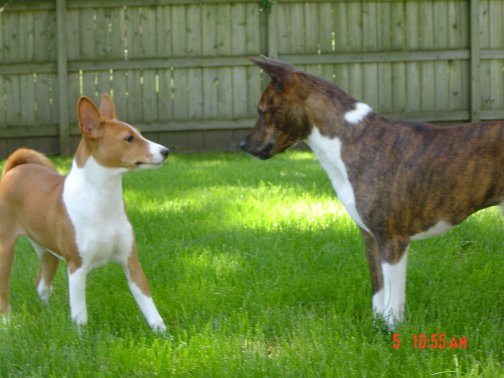 And who better to learn the ropes from than
patient Uncle Kevlar.... In this shot, it appears that
Kevlar is imparting some sort of very important information...
Perhaps he is telling Willow where the best spots to DIG
in the yard are located ???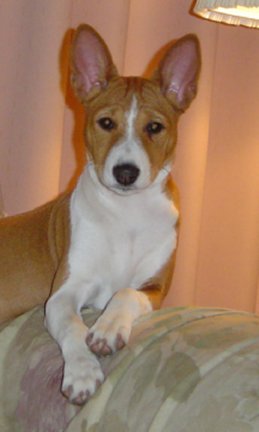 Yes, there's a New "Princess in Training" here
at New World ! Grin!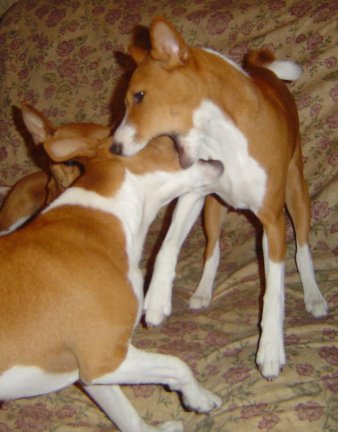 It's a "Dog Eat Dog" world - Dulcie (Willow's dam)
tries to eat Willow for an afternoon snake, but
Willow proves that SHE (and not "Goldfish")
is in fact "the snack that bites back !"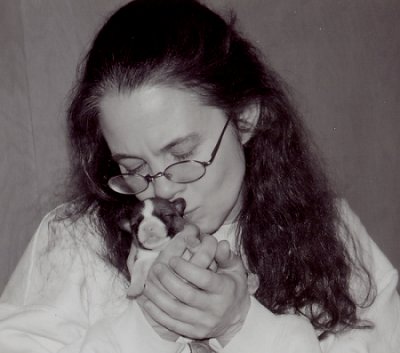 And no matter how long Willow is with us, this will always
be one of my favorite photos of her - snapped by Aaron when
she was less than 2 hours old. I didn't know he had his 35mm
camera in the whelping room, loaded with black and white film .... but
the result is one VERY special snap shot for all involved !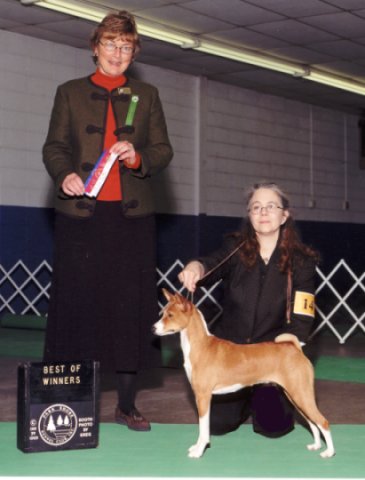 Willow has been patiently waiting (in her Uncle
Kevlar's shadow) to kick off her show career...
In her first outing of 2005, she earned her first point
at the Parkshore, KC show.
Thank you to Judge J. Anselm for
this nice WB/BOW/BOS !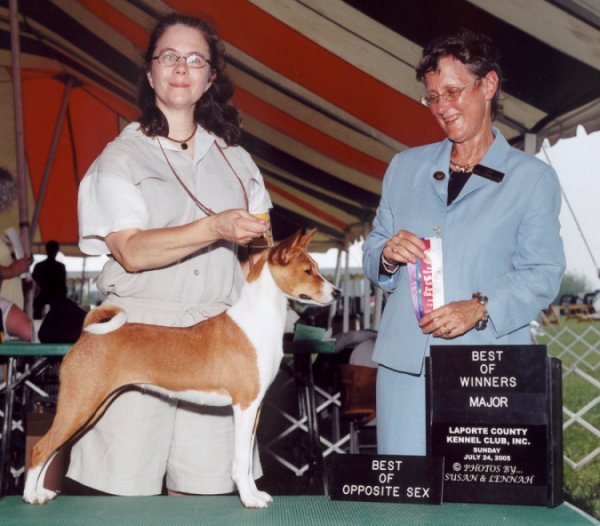 Yes, we'd been out in the almost unbearable
100 degree heat for several hours at this point,
and we're ALL looking a little less than our
best -- Willow was definitely GLAD to
get the photo shoot behind her and head back
to Illinois in the comfort of the air conditioned van !
Thanks to Judge Rita Biddle for this nice win.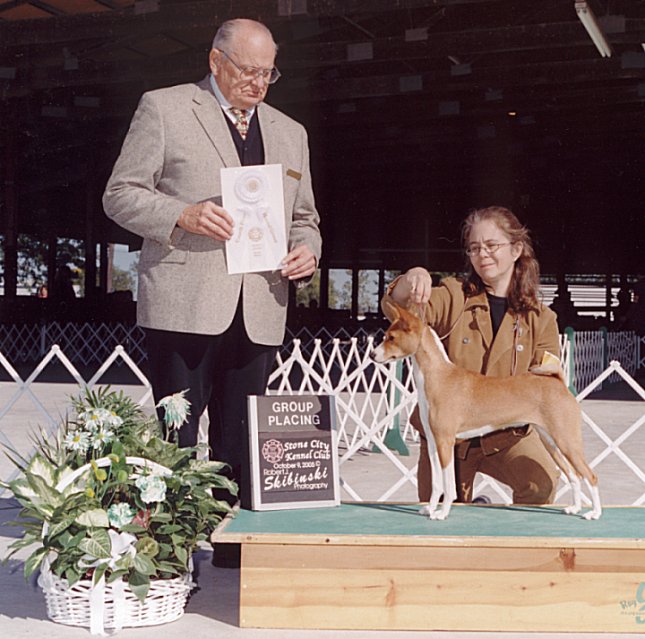 What a great day Willow had at the Stone City, KC show
on October 9, 2005! Not only did she earn herself
two more points by going BOW/BOB, but she managed to
pull a Group placement out of her hat, too! Thanks to
breed and group judge Mr. R. Berndt for making
October 9 a Sunday to remember !

"I'M ALL GROWN UP NOW!"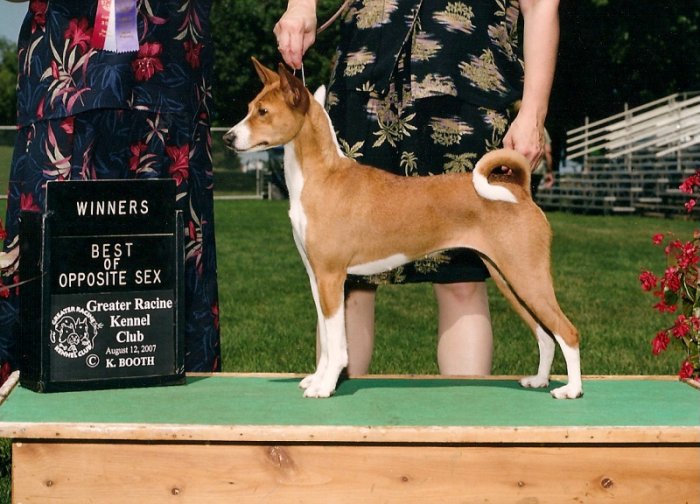 Willow picked up her final single point on August 12th,
2007 in Racine, WI [she missed showing for most of
2006 & early 2007 while her coat recovered from a
false pregnancy].

Click here to view Willow's Pedigree ...

Click here to go back to the "Meet the New World Kidz" page ...

Click here to see our 2007/2008 Breeding Plans for Willow !

Click here to return to the New World Index page ...