Meet Max!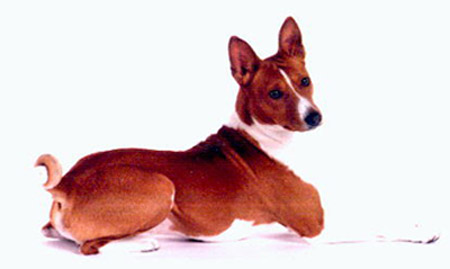 UCI Int./AKC Ch. Kibushi Anything Goes, TT, CGC, F.Ch.
Whelped 11-23-88
Photo of Max at 2.5 years by Norman Phillip, Highland Park, IL

Max was my first Basenji. I acquired him from Jon and Vicki Curby, Kibushi Kennels, in February 1989, when he was three months old -- but I picked him out -- from his litter of seven -- at the tender age of four weeks.
For those who have never experienced the joy of raising a Basenji from puppyhood well into his or her senior years, I can only say that there are few things in life that rival this experience. You will learn more from your "old friend" -- both about Basenjis, and about yourself -- than you ever imagined. There is no friend like and OLD friend, and I'm proud to count Max as one of mine!
Here are some of my favorite photos of Max.

Max, 9 yrs., and son Ninja, 4 months.
"My Boys..."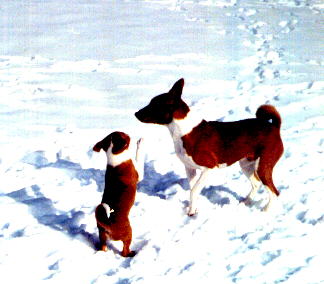 Max at age 9 years, Ninja at 9 weeks!
"Come ON Daddy! Let's PLAY!"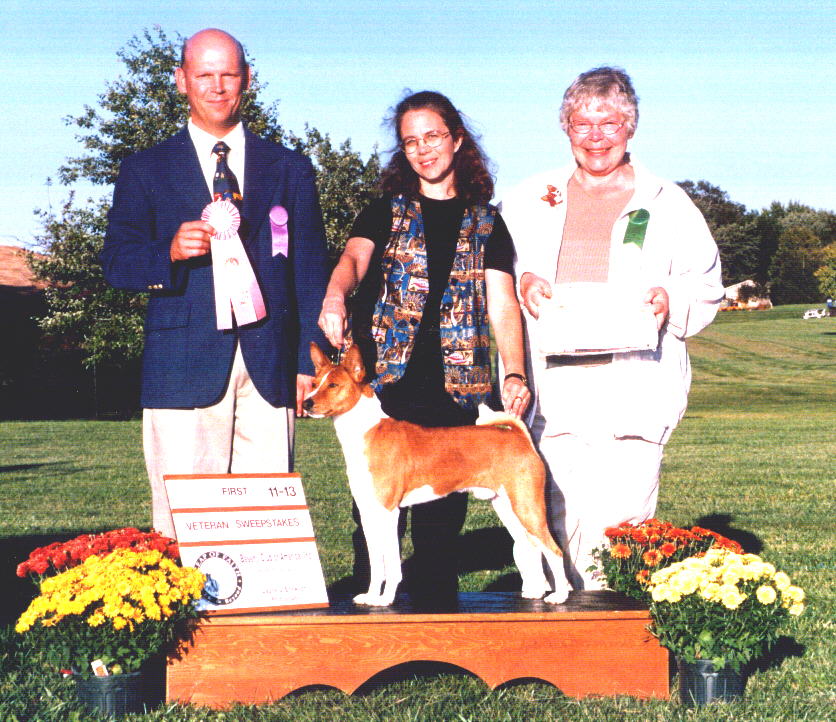 A proud moment for us...
Max winning 1st in the 11-13 year Veteran Dog Sweepstakes
Class at the 2000 BCOA National Specialty --
just eight weeks shy of his 12th birthday!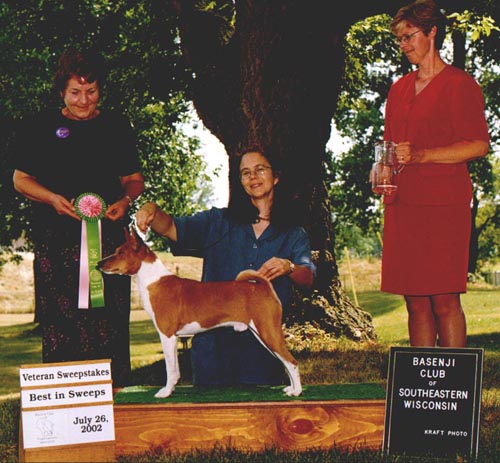 And yet other proud moment!
Here's Max winning Best Veteran in
Sweepstakes at BCOSW's 2002 Specialty!
At age 13.8 years, Max was the oldest
Veteran entered by 3 full years...
But you'd never guess it from the
glint in his eye, or way he flew around that ring!
Thank you to breeder-judge
Linda Ehlers (Jerlin Basenjis)
for this honor !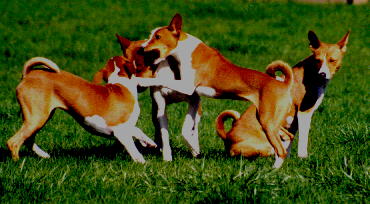 Max takes backstage in this photo from 1998...
but that's him, in the middle of the shot. His two
"teenage" pups, Ninja and Dulcie, are testing
their Papa's patience -- while Mama Mirrie [right]
is content to sunbath!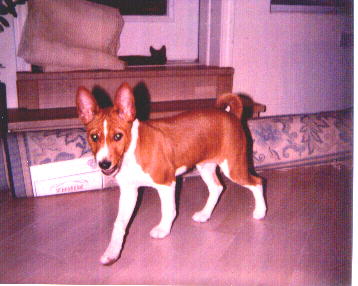 Aaah! its BABY Max --
during his first week at his "new home"
back in February 1989. Notice that I decided
to leave that new oriental carpet
rolled up for awhile... Good move!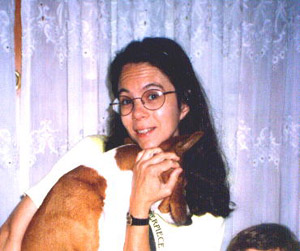 The "old man" gets a HUG!
Actually... I think he nodded off to sleep....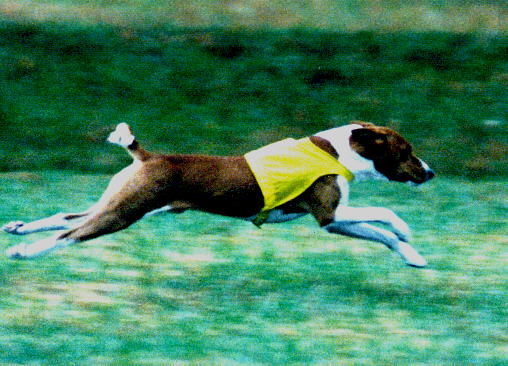 A well-loved old photo of Max
on the coursing field in his prime...
September, 1990.


To the "Meet the Kidz" Page